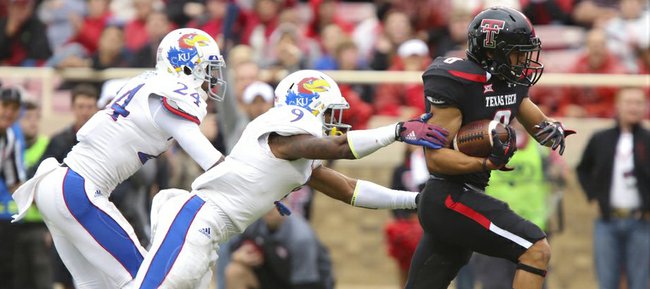 Photo Gallery
KU football v. Texas Tech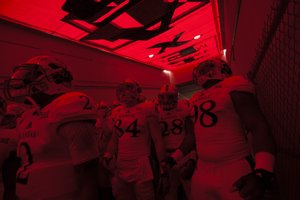 Images from Saturday's game between the Jayhawks and Red Raiders in Lubbock, Texas.
Podcast episode
Clint Bowen on what went wrong in 34-21 loss at Texas Tech
KEEGAN RATINGS
TEXAS TECH 34, KANSAS 21
Lubbock, Texas — The Kansas University football team's streak of second-half shutouts by its defense ended at two on a drizzly and dreary Saturday at Jones AT&T; Stadium, where Texas Tech's 17 second-half points helped the Red Raiders put away Kansas, 34-21, in front of a crowd of 54,071.
Will Ferrell's "Frank the Tank" character in the movie Old School may have been a fan of all the streaking associated with Saturday's loss, but the Jayhawks were less than thrilled.
That's four losses in a row for Kansas (2-5 overall, 0-4 Big 12) and the end of a four-game losing streak for Texas Tech (3-4, 1-3). Oh, and there's also the big one: KU's losing streak away from home crossed a new threshold and now sits at 30 as the Jayhawks head into their second bye of the season licking their wounds.
"I'm disappointed after every game we lose," said KU senior Ben Heeney, whose career-best 21 tackles were the most by a KU player sicne LeRoy Irvin Sr., had 21 against Missouri in 1979. "But a game like this and a game like last week (27-20 vs. No. 16 Oklahoma State), these ones hurt."
There were a handful of bright spots and a few more of those baby steps that have become the rallying cry for the Clint Bowen interim head coaching era. But the Jayhawks still made too many mistakes, let too many opportunities pass them by and again showed there remains a ways to go in their quest to close the gap on the rest of the Big 12 Conference.
Like they've done so many times this season already, the Jayhawks started slow and let their opponent dictate the way the game would be played. Tech tallied a field goal and two touchdowns in its first five possessions and built a 17-0 lead on an eight-yard touchdown pass from Davis Webb (28-of-44 passing, 288 yards, 3 TDs) to Brad Marquez with 6:57 to play in the half. But the big early lead did not knock the Jayhawks out. If anything, they felt at ease in such a position simply because they've been there so many times.
"Not very good," Bowen said of his team's start. "We did kind of battle back and settle down a little."
After a Heeney interception set up the Kansas offense at the Texas Tech 39, junior quarterback Michael Cummings led a seven-play drive that put KU on the board with 31 seconds remaining in the half. His 16-yard touchdown pass to Justin McCay in the back corner of the end zone was one of two Cummings TD passes on the day — he also added a 21-yarder to Jimmay Mundine in the third quarter — and the play marked one of the first signs of Kansas stealing back some momentum.
Despite playing a step or two slow and taking a full quarter to settle in, Kansas trailed just 17-7 at the break and was in line to field the second half kickoff. The Jayhawks did not do anything with their first possession of the third quarter and watched Tech tack on a field goal on its, but the 20-7 deficit sparked KU's most impressive stretch of the day.
The Jayhawks pulled within six points — 20-14 and 27-21 — twice in the second half, but each time they did the Red Raiders hit back with efficient drives that ate up yards in a hurry and pushed the margin back to two scores before the visitors even had time to realize or worry about the game being within reach.
"That's your chance to win the game," Bowen said. "You come (back) from 17-0, you get it to a one-possession game, you've got to go out on defense and get a stop. That's what the game is about. Both times Tech goes down and scores a touchdown and ballgame."
Added senior pass-rush specialist Michael Reynolds, who turned in another solid game with six tackles, including a sack, three for loss and a forced fumble: "It's really tough when our offense steps up and gets their job done and it's on us to get the stop and we don't get the job done. They just got the best of us today."
Led by Cummings' 20-of-32 passing day for 235 yards, the Kansas offense took a couple more steps in the right direction, but, too many times, was victimized by its inability to convert third-and-short. KU converted just four of 14 third-down opportunities — that makes 11-of-49 in the past three games — and twice failed to gain the one yard needed to move the sticks. What's more, the Jayhawks, who pride themselves on running to the football on defense, did much more chasing in this one, as Tech's smaller, quicker wideouts gave Kansas fits on the underneath routes over the middle.
"They're quick. And that's what Texas Tech does," Bowen said. "They find some match-ups and they take advantage of them."
Added Heeney: "They had a really good scheme for our defense today."
With around 10 minutes remaining and KU driving to cut it to a one-score game for a third time, Cummings and freshman running back Corey Avery botched a handoff and the Red Raiders fell on the loose ball. Although plenty of time remained and neither side added another point after that, the miscue definitely seemed like that moment in Old School when Marisa picked up Frank the Tank as he was running naked down the middle of the road. In other words, the party's over.
Cummings said the gaffe was symbolic of what's currently holding Kansas back.
"It's the little things," he said. "You've got to be able to execute the little things to make the big things happen. We came up short in a couple of instances."