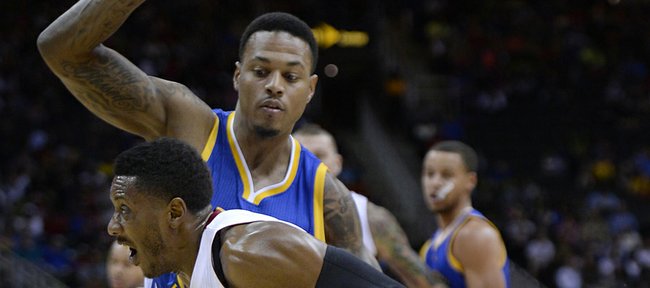 Kansas City, Mo. — Now 29 years old and in his seventh season in the NBA, Kansas City native Brandon Rush is a different player and different person than the one who helped Kansas University claim the 2008 NCAA basketball championship.
"I've grown up a lot. I've changed and matured a lot," Rush said Friday in Sprint Center, where his Golden State Warriors fell to former KU teammate Mario Chalmers' Miami Heat, 115-108, before a crowd of 12,783 that included former KU coach Bill Self and the current Jayhawk players.
As far as on-court ...
"I think that time has passed," Rush said of being a starter in the pros. "I think I'm more comfortable being a bench player, coming off the bench."
Rush, who guarded, and was guarded by, buddy Chalmers in Friday's game as both players entered as reserves for their respective teams, suffered a crippling left knee injury two games into the 2012-13 season (with Golden State). After 10-month recovery time from ACL and meniscus surgery, the No. 13 pick of the 2008 NBA Draft (by Portland, traded to Indianapolis) returned to play in 38 games with Utah last season.
Rush signed a two-year deal worth $2.5 million to return to Golden State this past offseason.
"It's been a couple rough years for me the last two years, brutal," said Rush, who also had right ACL surgery in June of 2007 before his junior season at KU. He had a miraculous recovery and was available to play in the magical 2007-08 campaign. "I feel good now. The knee is fine. I'm still off a little bit, the timing. I think that will come along with practice.
"I think I can regain my old form. Once the timing comes back, shots are going to go down."
The 6-foot-6 Rush, who has career averages of 8.3 points and 3.3 rebounds a game, scored four points off 1-of-4 shooting while playing nine minutes in the first half of Friday's exhibition. Rush received treatment in the locker room the entire second half, not playing because of low back spasms. After the game, he said he was fine and should not miss any additional time.
"I mean, Brandon's been battling injuries. Any time you have a couple injuries like he has had, it's hard to find a rhythm, find a home. I think he's found one in Golden State," said 2008 Final Four MVP Chalmers, who scored 13 points off 3-of-3 shooting (2-for-2 from three, 5-of-6 from the line) and hit the three-pointer that put Miami ahead for good (103-102) Friday.
"We talk two to three times a week. I'm always checking on him. He's always checking on me. That's my guy," added the 6-foot-2 Chalmers, who stole the ball from Rush and raced in for an uncontested layup in the first quarter.
Rush later went for the ball, but just missed getting even with Chalmers for a theft of his own.
"That's still my best friend. We still hang out," Rush said of Chalmers, with whom he spent time after arriving in KC on Thursday night. Rush also visited with his mom, grandmother, brother JaRon and some uncles. "I was there (Miami) to see him a week before the season. We stay in contact."
Chalmers coincidentally is also in the first year of a new two-year deal.
The player who struggled in last year's NBA Finals and is battling Norris Cole and Shabazz Napier for minutes this season re-upped with Miami for two-years, $8.3 million.
"That messed up his mind a little bit," Rush said of Chalmers having a bad 2014 NBA Finals versus San Antonio. "I think he's ready for the season."
Both Chalmers and Rush were fired up Friday, playing so close to KU's campus.
Noted Rush, who received a hug from Self while warming up: "To be born and raised here and see my family ... my first time coming back here since I've been in the NBA ... to play a game is pretty exciting."