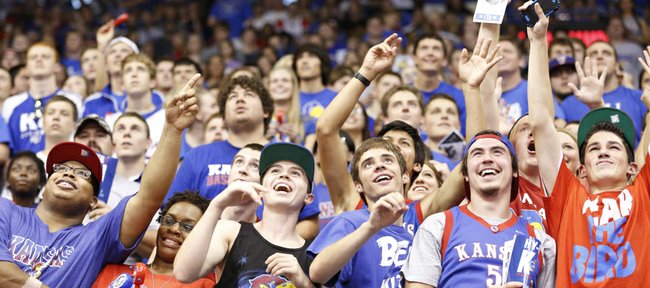 If it weren't against NCAA rules, Kansas University could hold a heck of a high school all-star basketball game Friday night in Allen Fieldhouse.
A whopping 16 senior, junior and sophomore blue-chip recruits have said they will be in the stands for the 30th-annual Late Night in the Phog, which will start at 6:30 p.m. Doors open at 3 p.m. for the event. Admission is free.
Five of the prep seniors — Rivals.com's No. 2-rated Jaylen Brown, No. 10 Stephen Zimmerman, No. 14 Carlton Bragg, No. 18 Brandon Ingram and No. 19 Tyler Dorsey — are making official visits. The rest are on unofficial visits.
"Obviously, you can't bring in 10 officials (visitors), but we bring in a few or several," KU coach Bill Self said Wednesday on KC 610 radio. He has spoken with at least three radio stations, two TV stations and a batch of print reporters this week publicizing Late Night, which he hopes again fills Allen Fieldhouse to capacity.
"If you look at our situation from a selling standpoint, if kids are going to sign before their senior season starts, then really we and most schools have only one chance to get a really hyped atmosphere basketball-wise, where they (prospects) can see people in the building. That's what we are selling a lot — the building, the atmosphere. Guys want to know what it's like to play there on game day," Self added.
Brown is a 6-foot-7 wing from Wheeler High in Marietta, Georgia; Zimmerman a 7-foot center from Las Vegas' Bishop Gorman High; Bragg a 6-9 forward from Cleveland's Villa Angela St. Joseph High; Ingram a 6-8 wing from Kinston (North Carolina) High; and Dorsey, a 6-4 guard from Maranatha High in Pasadena, California.
Juniors to attend: No 4 Jayson Tatum, 6-7 guard, St. Louis Chaminade; No. 6 Malik Monk, 6-3 guard, Bentonville (Arkansas) High; No. 13 De'Aaron Fox, 6-3 point guard, Cypress Lakes High, Katy, Texas; No. 28 Marques Bolden, 6-9 forward, DeSoto (Texas) High; No. 42 Schnider Herard, 6-10 center, Prestonwood Christian, Plano Texas; No. 66 Nick Rakocevic, 6-10 forward, St. Joseph's, Westchester, Illinois; and No. 93 Tyler Cook, 6-8 forward, St. Louis Chaminade.
Sophomores to attend: No. 2 Troy Brown, 6-6 point guard, Las Vegas Centennial; No. 24 Mitchell Ballock, 6-4 combo guard, Eudora High; unranked Trae Young, 6-1 combo guard, Norman (Oklahoma) High; and unranked DaMonte Williams, 6-2 point guard, Peoria (Illinois) Manuel. Williams is the son of former Illinois guard Frank Williams, who played for Self at U of I.
Self, who did not mention any recruits by name in accordance with NCAA rules, said Late Night is more than a recruiting tool. He stated it's big for fans, especially those who can't land tickets to games during the season, and of course his players, who love the reaction to their scrimmaging and their skits and dancing.
"I think it's good preparation for the young guys, to see how they react in front of a crowd the first time," Self said. "From an excitement standpoint, this is something our players look forward to each and every year. I know they are excited about it.
"There doesn't seem quite as much hype around it this year as there was last year with Wigs (Andrew Wiggins). We've got four good young players (Cliff Alexander, Devonté Graham, Sviatoslav Mykhailiuk, Kelly Oubre Jr.), and our fans are really, really going to enjoy watching those guys play the first time out.
"We encourage everybody to get there and get there early. They've eliminated any problems with the people not being able to get in and kind of bum-rushing the doors. That's been eliminated. This is going to be a great event and hopefully as good as we've ever had."
An early 3 p.m. entrance time should allow for a less hectic scene than last year, when students rushed the doors and pushed fans out of the way to enter the building at 5:30 p.m. for the 6:30 show.
Self said Kansas City Royals fans shouldn't be scared away. KC will play Baltimore in Game One of the ALCS at 7:10 p.m. Friday.
"We'll be doing things from the big screen to keep everybody posted," he said of progress of that game. He's even suggested it could be a "basketball and baseball pep-rally this year."