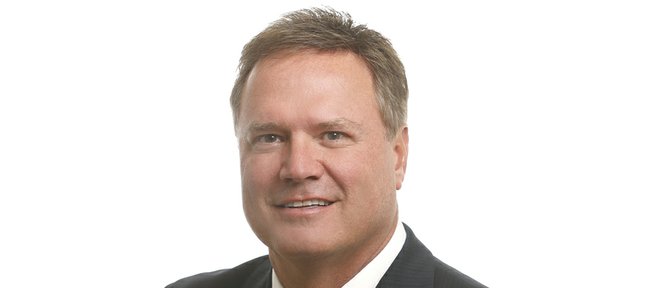 Kansas University has had three head football coaches — Mark Mangino, Turner Gill and Charlie Weis — during basketball coach Bill Self's 12 years at Kansas University.
Mangino and Gill were let go at the conclusion of the 2009 and 2011 seasons respectively. Weis was fired Sunday — four games into the (2-2) 2014 season.
"I think in any business, the head of departments are always forced to make difficult decisions. In business you are faced with dilemmas and tough decisions and certainly I know this was a tough one for our administration. But a decision was made. We need to be supportive of that decision," Self told the Journal-World on Tuesday night.
KU and Lawrence High graduate Clint Bowen on Sunday was named interim coach for the final eight games of this season.
"I know I am very excited for Clint because obviously he is a KU guy. He's a local guy. He has great energy and enthusiasm," Self said. "I think it'll hopefully pump some energy into our program. I am extremely excited for Clint and of course wish him nothing but the best of luck. I think he'll do very very well."
Self had a good relationship with Weis, who attended a batch of KU home basketball games, his usual seat off the north endline of James Naismith Court, next to media members.
"I feel bad for the Weis family. But I love Kansas. I want what's best for Kansas," Self said. "I will be very supportive of Clint and the decision that's been made, and I hope it turns out to be a great thing. It doesn't take away from the fact these are hard decisions. People and families are involved, and it can be very difficult. But I love Kansas and I want what's best for Kansas."
Honorary Kangaroo for a night: Self on Tuesday was Keynote speaker for the second-annual UMKC Basketball Tip-Off Dinner at College Basketball Experience in Kansas City, Missouri. Michigan State's Tom Izzo spoke last year.
Just down the road at Kauffman Stadium, the Royals were playing the Oakland A's in the Royals' postseason appearance since 1985.
"I think everybody in Kansas City is really fired up and excited about what is going on. I'm one of them," Self said recently on KC's 610 radio. "I don't go to near as many games as I should, but I think those guys are studs. Certainly what Dayton (Moore, GM) and Ned (Yost, manager) and all the guys have done is so cool, especially with a bunch of young guys."
Happy Birthday: KU sophomore Wayne Selden Jr. on Tuesday celebrated his 20th birthday.
"Screaming HAPPY BIRTHDAY to one of the toughest kids I have ever been around! BOSTON BORN ROXBURY RAISE. #RCJH," KU assistant coach Jerrance Howard wrote on Instagram.
Self recently spoke about the 6-foot-5 Selden on Andy Katz's ESPN podcast.
"Even though Perry (Ellis) and Jamari (Traylor) are back and we have some guys that have some experience, I expect Wayne to believe this is his team, not so much more than what Perry does, but Wayne has the personality to be vocal and really take ownership moreso than what the other personalities on our team have," Self said.
"I anticipate him taking a huge step up. I anticipate his points going up (from 9.7 ppg). I think his shooting percentage will go up, even though he didn't shoot it poorly last year (43.7), but was a little inconsistent. I could see him being right there as our leading scorer with Perry and being a guy who could average close to 15 a game and also be the guy to give us that physical presence and tough mindset that I think will be very contagious with the others," Self added.