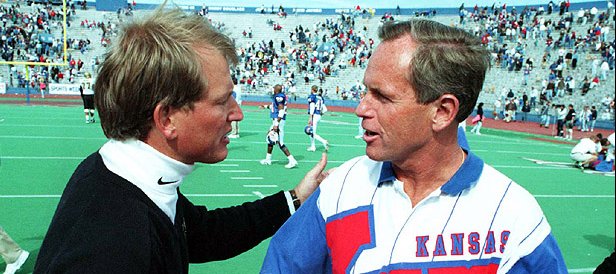 One of the many things Kansas University's interim football coach Clint Bowen said that resonated during his Monday introductory news conference was that he is prepared for this job because he witnessed turn-around efforts under Glen Mason and Mark Mangino.
"I think that what Clint said is pertinent," Mason said Tuesday by phone from Chicago, where his Big Ten Network duties had taken him. "He has some insight to what it takes."
Mason's insights on the topic extend beyond Kansas.
"I was part of a turnaround program as an assistant in some places and I was the head coach at Kent State when we turned it around, but to be quite frank with you, when I went to Kansas, I really had no idea what bad shape the program was in, a lot worse than I had envisioned," Mason said.
Losing programs have contacted Mason to test his interest after he was prematurely fired by Minnesota. After he thanks-but-no-thanked them, they sought advice and he shared it: "You better hire someone that has some stick-to-it-iveness because it's not going to be easy. And if they're going to get frustrated by every bump in the road, they're probably not going to do it."
Alumni never like to hear Mason's next bit of advice, but with the exception of some in-state stars wanting to stay at home, it plays out the way he portrays.
"The teams that finish first pick first and the teams that finish last pick last," Mason said. "So to think you're going to arrive and all the sudden you're going to out-recruit the Oklahomas of the world, that's not going to happen. I remember distinctly when I took the job at Kansas and we didn't have a lot of good linemen. I remember telling my staff, 'Fellows, we really need to recruit offensive linemen. If you find a guy who's 6-4, 280, and can really play, forget about him. We're not going to get him. He's going to go Oklahoma or go to Nebraska, he's going to go to Ohio State or Michigan. On the other hand, if you find a guy who's 6-4, 280 and we can get him, forget about him because he can't play.'"
After telling his coaches what players not to look for, he told them what to seek.
"I want to recruit the guy that's an inch too short, a step too slow, 10 pounds too light, but is a good football player and we'll develop him," Mason said. "Good, tough kids who can play the game. Look back at some of the kids we had when we turned the program around, that was the case."
Mason's first three KU teams went 1-10, 4-7, 3-7-1, but he made sure his players didn't let the scoreboard make them feel like losers.
"People fail to realize that kids in losing programs work just as hard as kids in a winning program, maybe even harder," Mason said. "But they're not getting a return for their investment initially, so you as a coach have to make sure they're getting a return, make sure they feel good about what they're doing, that you reinforce the effort that they're making, even though they might come up a little short on Saturday as far as the win-loss column."
The hard work turned into a five-year, 35-23 run for Mason that included a 10-2 season and 51-30 victory against UCLA in the Aloha Bowl in 1995.
It took years. It almost always does. Bowen has eight games played over nine weeks. That's not long enough to show anything, is it?
"Sure it is," Mason said. "People that come to watch a game, there are three things that they expect. They expect the team to look well-coached. They expect the players to play with tremendous effort every down. And eventually, they'll come to expect winning."
Expectations were low when Mason took the job in 1988 and they're not much higher at the moment.
"I remember when I first took the Kansas job, certain people said, 'Coach if you can get 11 people on the field and don't get a delay of game, that's going to be an improvement.' There are factors involved in coaching that have nothing to do with talent, and the less talent you have, the better you better be in those coaching areas," he said.
Mason believes in Bowen.
"A lot of kids like football," Mason said. "But there are really few kids who love football. Clint was one of those guys. When you progress through the ranks the way he did from graduate assistant, you don't make those incremental advances unless you're a good coach."