Photo Gallery
Kansas football v. Iowa State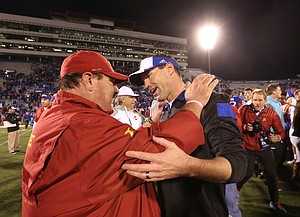 Images from Saturday's game between the Jayhawks and Cyclones at Memorial Stadium.
KANSAS 34, IOWA STATE 14
The clock ticks louder each week on the football careers of a number of key players on the Kansas University defense.
Blend that with their desire for their interim head coach's clock not to expire at the same time.
Mix in a vulnerable opponent and the result was a dominant performance featuring big play after big play.
On the way to a 34-14 victory against Iowa State in Memorial Stadium, the KU defense opened with a trio of three-and-outs and each of the Cyclones' first five possessions ended with a punt.
Nobody came up bigger than senior outside linebacker/defensive end Victor Simmons, a graduate of Olathe North High.
In helping to deliver Clint Bowen with his first victory as a head coach, the defense broke up 14 passes, had four sacks, forced three fumbles and intercepted a pass.
"Having the opportunity to do this day in and day out, knowing that it won't be there one day, its an unexplainable feeling when you get out there, especially when you have a home crowd like this going crazy," said Simmons, who had two sacks for 18 yards in losses, forced a fumble and recovered it and had one of KU's 14 pass breakups, a rare number.
Charlie Weis went 1-18 in Big 12 games, Turner Gill 1-16. Bowen is 1-4.
Weis' came last season against West Virginia, which broke KU's 27-game Big 12 losing streak.
"We broke that last year and that felt good, but I think what makes this one better would be that coach Bowen has so much passion and it definitely rubs off on us seniors, especially guys like me, Ben Heeney and Michael Reynolds, who have grown up in Kansas," Simmons said. "You bleed crimson and blue and I think that it's finally trickling throughout the team that this is a place that you can be proud you went to."
It's a point hammered home every day at practices that feature talks from former Jayhawks since Bowen took over.
Bowen has stayed focused on his duties as defensive coordinator and head coach and has done a good job of not letting news that Kansas is conducting a full-blown search, replete with a consultant, for its next coach distract him.
The players back Bowen with words, but play always talks louder and the Jayhawks played extremely well in a rare game against a team that didn't outweigh them in the talent department.
"You guys can tell when you interview him yourselves how passionate he is about this place," Simmons said. "He grew up here in Lawrence. He played high school ball here. Then he came here, played with his brother and then became a coach here multiple times. This guy is KU if I've ever seen it."
Kansas is 4-1 against the spread, as good a measure as any to determine whether a team overachieves or underachieves.
Why have they played better under him?
"I would attribute it to his passion" Simmons said. "He comes in every day with a smile on his face, ready to go, with a lot of energy and I think that's the biggest difference in our team. ... Coach Bowen always says to be in this game you have to love to grind. I think we're starting to realize what he means by that."
All of Iowa State's points were scored in a span of 2:20, at the end of the first half and beginning of the second, turning a 24-0 lead into 24-14, a palpable momentum shift.
Iowa State threatened to make it closer but missed a field goal and its next possession ended on Simmons' sack-fumble that he recovered.
Seniors were all over the place making big plays on defense. JaCorey Shepherd had five pass breakups, Dexter McDonald four. Reynolds, from Wichita, had a sack and picked up his Big 12-leading fifth forced fumble. Heeney of Hutchinson had a team-leading seven tackles.
Quarterback Michael Cummings appreciated the effort of the defense and singled out the turnover created by Simmons.
"Big plays influence the game in a dramatic way," Cummings said. "For them to get that turnover was big. I think we all have a lot of faith in our defense. We have a pretty good defense. They might bend, but they rarely break."
KU had just five healthy defensive linemen, which made it tough to rotate players in to keep them fresh. The offense made that easier by running 91 plays from scrimmage on a day KU won the time of possession, 37:33 to 22:27.
Far steeper challenges await with TCU in Memorial Stadium, at Oklahoma and at Kansas State left.
Regardless of those outcomes, it can't be denied that Bowen coached a highly motivated, disciplined, clutch football team Saturday with 33,288 in the stands.