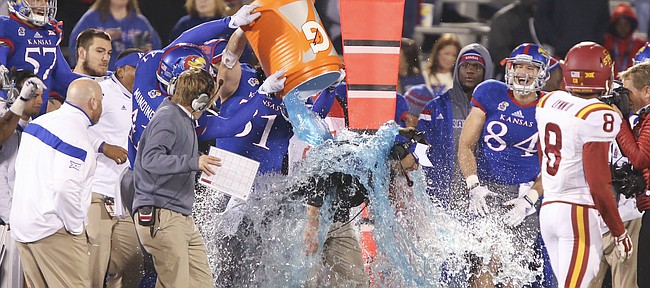 Photo Gallery
Kansas football v. Iowa State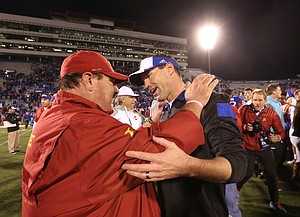 Images from Saturday's game between the Jayhawks and Cyclones at Memorial Stadium.
KANSAS 34, IOWA STATE 14
In a locker room that Kansas University running back Tony Pierson called the most excited he had ever seen, KU athletic director Sheahon Zenger waited for the entire KU football team to finish celebrating Saturday's 34-14 victory over Iowa State on the field with some of the 33,288 fans who showed up and then tossed a football to senior captain Ben Heeney.
Heeney, who led the Jayhawks with seven tackles but watched half a dozen of his teammates make the kinds of plays so many KU fans are used to seeing from him, knew exactly what to do with it.
"After we did our rock chalk chant, I called everybody up and said, 'Listen up, listen up,'" Heeney recalled. "'Game ball. Coach Bowen.' He got kind of emotional after that. We had some fun in the locker room after the game, for sure. This was probably the best moment of my career because we got a win for a guy that bleeds Jayhawks. It was awesome."
Not 15 minutes earlier, former KU coach Mark Mangino, who once was Bowen's boss and now leads the ISU offense, handed Bowen a verbal game ball of his own.
"You've earned the right to be the head coach here," Mangino told Bowen, according to an eye witness who saw the encounter.
Clint Bowen may not have wanted to make this week or even these final nine weeks of the 2014 season about him, but he seemed powerless to stop a locker room full of guys who saw it exactly the opposite way. And on Saturday, those guys played like a team determined to make the rest of the world see what they do in their head coach.
Behind a highly efficient offensive performance and a defense that dominated the first half, the Jayhawks (3-6 overall, 1-5 Big 12) raced out to a 24-0 lead, momentarily slipped in the third quarter and then slammed the door with 10 straight points after ISU (2-7, 0-6) had cut the Kansas lead to 24-14 with 13:53 to play in the third quarter.
Whether it was the 514 yards of total offense — running backs Pierson (101) and Corey Avery (103) both topped the century mark and scored a touchdown — the four sacks, seven tackles-for-loss and 14 pass break-ups or the wild celebration that unfolded on the field after the game and ended with the goal posts in the south end zone being torn down and deposited into Potter Lake by win-crazy fans, all of it was a reflection of the kind of program Bowen has tried to build and the way his players have followed his lead.
"I feel like everybody just went out there and played our hearts out for Coach Bowen to get his first win," Pierson said. "I feel like this means the world for him. When we look at Coach Bowen, we see KU all over him… We just went out there and fought hard for him."
Asked what it felt like to be the starting quarterback in Bowen's first career victory, junior Michael Cummings cracked a smile and followed it with some sincerity.
"That means a lot," said Cummings, who finished 24-for-40 for 278 yards and a touchdown and also added a one-yard TD run. "The respect we have for Coach Bowen is off the charts."
It definitely seems like that whole respect thing is a two-way street around the KU football complex. After the game, Bowen fielded several questions about what the game meant to him, how he felt about the victory, what this might do for his candidacy for full-time coaching gig in Lawrence. Each time, he deflected his answer back to the Jayhawks.
"Our players, they made plays and did some special things today," he said. "It felt good turning around and seeing those players with smiles on their faces."
Included among those special plays were a late-third-quarter, 42-yard grab from junior receiver Nigel King on a third-and-19 that set up Cummings' one-yard touchdown run, which pushed KU's lead to 31-14 with a little less than 18 minutes to play.
"That's just Nigel being Nigel," Cummings said of the reception which King (101 yards on five catches) ripped out of the air with two hands.
Then there was the Victor Simmons strip-sack and fumble recovery on the next possession and a 16-yard pitch and catch from Cummings to Jimmay Mundine (6 catches, 75 yards, 1 touchdown) when KU had the ball that led to a Matthew Wyman field goal and a 34-14 lead. After catching the ball about 10 yards into his route, Mundine juked once, stabbed twice and then lowered his head to pick up the final six yards he needed to convert the third-and-15.
Finally, there was the toughness shown by Cummings to play through what he called a shoulder stinger on the second play of the game. Cummings momentarily left the game but came back out of the locker room in the second quarter and led the offense the way he has done all season.
"The offense came out of the gates unbelievable...." Bowen said. "You kind of always look at football players and there (are) certain guys that, when you look in their eyes, you know they're gonna compete and fight. And I never had any doubt about that with Mike. He always had that presence and those kind of guys you can win with."
On Saturday, Bowen and company did just that. And if the guys he celebrated with, who celebrated him, have anything to say about it, Bowen's first victory as the KU head coach will forever be special but soon be just one on a long list of them.
"I think it should be 100 percent, man," said Heeney, when asked if Bowen should be KU's next head coach. "We're all behind him. The whole team feels like he should be the guy. We want him to be the guy. Even though I'm not gonna be here next year, I'd love for him to be the head coach permanently and I think that's the message the whole team would tell you, too."