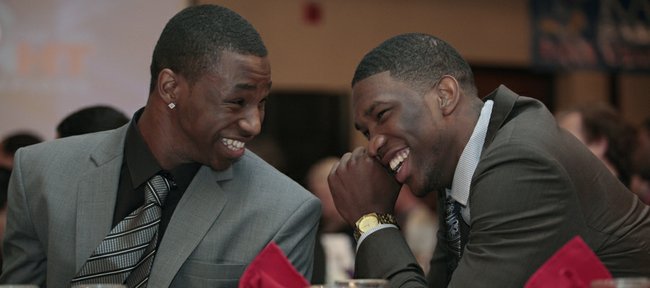 Former Kansas University basketball players Andrew Wiggins and Joel Embiid — who did not attend the recent NBA Draft combine, where all-important measurements were taken — submitted to such measurements over the past few days.
On Friday in Santa Monica, California, Cameroon native Embiid stretched to 7-foot-1 in shoes, with a 7-53⁄4 wingspan and 9-51⁄2 standing reach.
On Sunday in Santa Barbara, California, Wiggins measured 6-foot-83⁄4 in shoes with a 7-foot wingspan and 8-11 standing reach.
"Wiggins' workout was great. Working on keeping low, small tweaks to his 3-shot, terrific midrange game and craziest athlete in draft," Chad Ford of ESPN.com tweeted Sunday.
Wiggins and Embiid, one-and-done college players, are expected to be taken in the top three (with Duke's Jabari Parker) of the June 26 NBA Draft.
Norm well respected: KU assistant coach Norm Roberts is listed as a prime candidate to land a head coaching job in the near future, in an Jay Bilas/Jeff Goodman column entitled "Top college head coach candidates" at ESPN.com.
"He picked up the pieces left by Mike Jarvis, and had the program headed in the right direction when he was fired in 2010 after six seasons at St. John's. Roberts is back on Bill Self's staff, but deserves another crack at a head gig," they wrote.
Documentary on McLendon: Former KU players Bud Stallworth and Wayne Simien were recently interviewed for the upcoming historic documentary, "John McLendon, Kansas' Forgotten Coach."
With an expected release of late 2015, the project is a collaboration between The Broken Fence Film Ranch of Atchison and Rockhaven Films.
According to a news release, "The film is an account of the numerous barriers (KU grad) John McLendon and his extraordinary teams overcame in becoming one of the best in the country. The last living protégé of basketball's inventor, John McLendon, not only developed the 'Fast Break', he wrote the book on it. He changed the way the game was played integrating the nations' oldest basketball tournament and three leagues along the way."
The production will include interviews with McLendon's biographer, Milton Katz, as well as former KU coaches Ted Owens, and Bill Self.
McLendon, who coached on both the college and pro levels, is in the Naismith Basketball Hall of Fame and College Basketball Hall of Fame.
Finley an actor: Former KU track thrower Mason Finley, who transferred to Wyoming for his senior year, is one of the favorites to win the discus at this year's NCAA Outdoor and is still on track to make the 2016 U.S. Olympic Team.
The 6-foot-8, 395-pounder also is pursuing a career in acting.
"With my size, I don't think I'll be playing Romeo or Hamlet," Finley told the Denver Post. "But I'll have a niche. I can get roles that others can't — if they need a football-type player or a big, bad guy."
To read a feature story on Finley, go to http://ljw.bz/1jlwcUM