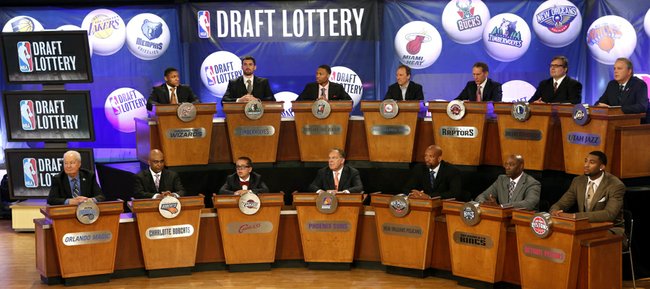 Former Kansas University basketball standouts Andrew Wiggins and Joel Embiid soon will know a lot more about where they might be playing basketball next season.
The NBA will hold its annual lottery at 7 tonight on ESPN, before an Eastern Conference final game between Indiana and Miami.
Wiggins and Embiid are expected to be taken somewhere in the top three of the June 26 draft, meaning the last teams announced tonight will signify likely destinations of the Jayhawk duo. Wiggins and Embiid are expected to attend the lottery ceremony, according to DraftExpress.com's Jonathan Givony. Former KU players Marcus and Markieff Morris will be in attendance, too, representing the Phoenix Suns.
"It's my first time going through something like this where I don't get to pick my destiny. I'm very excited," Wiggins, a 6-foot-8 shooting guard from Ontario, Canada, said Monday on ESPN Radio's Scott Van Pelt and Ryen Russillo show.
He was asked specifically about the chances of playing for Kobe Bryant's Los Angeles Lakers, who are represented in the lottery after a disappointing season.
"That would be something great, being under his wing," said Wiggins. "I'd be learning a lot. That would be something crazy. I consider Kobe next to Mike (Michael Jordan) the best ever, just in my opinion."
Wiggins, who also appeared on ESPN's "SportsCenter" on Monday, spoke glowingly about his one year in college.
"It was my happiest year on the planet since I was born," Wiggins told Van Pelt and Russillo of his time in Lawrence. "That's like home to me, really. Walking in the fieldhouse gives you chill bumps. It's a crazy feeling to be there, in that situation, be under a legendary coach like Bill Self and play with the teammates I had. It was a once-in-a-lifetime experience for me. I'll never forget anything about it.
"I can understand why players stay all four years in college. College is fun. There's nothing like it at all," Wiggins added. "If I could erase time and replay every day back in Kansas, I would. You know that can't happen. That's how fun Kansas is to me."
Wiggins was asked on "SportsCenter" if part of him wishes there were a rule requiring him to stay at KU another year. "Yeah. I'm only 19. Every day I think about college. It really was the best time of my life at Kansas. I enjoyed it so much. It was one of a kind," he said.
"I couldn't really picture myself going to the NBA after high school. I think that would have been a mess for me. I wouldn't have been (ready)."
Asked to sum up what he learned at KU, Wiggins said: "I was always a good on-the-ball defender, but I learned how to play defense off the ball. I learned the pick-and-roll game, just how to take advantage of certain situations. Also a lot of the mental part. Staying true to who I am. Coach Self at the end of the year really brought out the dog in me. That's why I started playing better at the end of the year. He really made me just get focused."
Wiggins remains atop Chad Ford's ESPN "Big Board" entering today's lottery, with Embiid No. 2 and Duke's Jabari Parker No. 3.
"Being from a different country ... being selected first or even in the top three in a whole different country is a blessing to me," Wiggins said.
"I think it was important before, but right now I think going No. 1 would just be like a label. I've noticed a lot of great players didn't go No. 1 and still ended up being one of the best ever or hall of famers."
None of the projected top three players attended the recent NBA Combine in Chicago. Wiggins explained his reasoning.
"I was going to go, but other top players did not go, so me and my agent and my parents talked about it. We decided not to go," Wiggins said.
Instead, he released a picture of his vertical-measurement test. The picture of a high-flying Wiggins went viral on the Internet.
"They thought it would be a good idea to show I'm not taking time off. I'm working out every day doing the same stuff (they did at Combine)," he added. "I'm just doing it on my own time, working out in L.A. and Santa Barbara."
Wiggins Day: June 26 has been declared "Andrew Wiggins Day" in Wiggins' hometown of Vaughan, Ontario, Canada, as reported by ourwindsor.ca. City commissioners voted to name the day after Wiggins, whose college games were all televised in Canada this past season. Gus Gymnopoulos, Wiggins' coach at Vaughan Secondary School, called it "a phenomenal thing."
"I think he would be much appreciative of that honor and that designation coming from the City of Vaughan," Gymnopoulos told the website. "I know he's very partial to Vaughan, having been raised here."
Councilor Alan Shefman, of Vaughan's Thornhill district, offered the resolution.
"I think it's really important that we recognize excellence and, secondly, recognize people that have the potential to be heroes to young people in our community," Shefman told ourwindsor.ca. "Andrew Wiggins, a Vaughan kid playing ball at one of our local high schools and growing up in our community, is a great example of somebody who can, through his athletic ability, become not only a hero, but a role model for people."
To read the story, go online to http://ljw.bz/1jxyp5c.
No news on Mykhailiuk: All is quiet on the Sviatoslav Mykhailiuk recruiting front. The 6-foot-6 shooting guard from Ukraine visited KU over the weekend and reportedly had a great visit. He headed to Virginia on Sunday with no word yet on his visit there. His coaches have yet to put out word if he'll be making any more visits. Michigan, Oregon and North Carolina had been listed as possibilities. Reportedly, he still is seriously considering playing pro ball next season in Europe. KU has two scholarships left to give in recruiting.