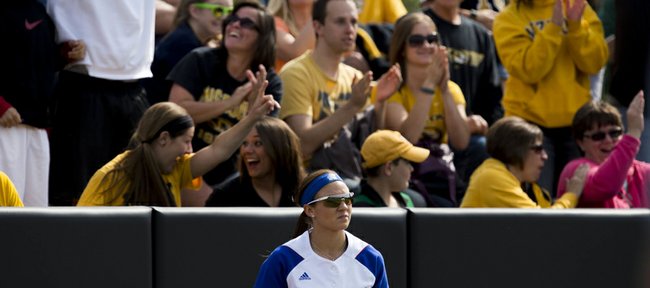 Columbia, Mo. — Trash talk or not, the postseason is no place for pleasantries, particularly among old acquaintances.
A pair of former conference foes combined to boot Kansas University's softball team from the NCAA Tournament Saturday at University Field.
The Jayhawks don't have to deal with Missouri or Nebraska in the Big 12 anymore, but their neighbors to the east and north were responsible for KU's demise in the program's first trip to the postseason since 2006.
A 6-3, Border War loss to regional host Mizzou in the afternoon put Kansas in an evening elimination game versus the Big Ten's Huskers, who sent the Jayhawks home for the season with a 2-1 revenge win.
Although the Jayhawks beat the Huskers, 3-1, Friday in their tourney opener, Nebraska pitchers Emily Lockman and Tatum Edwards combined to limit KU to three hits in the day-after rematch.
The Jayhawks did their best in attempting to stay alive against Nebraska (and face Mizzou for a second day in a row by winning the elimination game), led by junior pitcher Alicia Pille's 135 pitches over seven innings, which included five strikeouts and one earned run on six hits.
"I thought Pille threw really well," KU coach Megan Smith said, "and gave us a chance to win. We just didn't do enough offensively."
Down 2-0 in the fifth, KU appeared to be storming back, when Chanin Naudin led off with a double and later scored on a Taylor Dodson single. But the Huskers turned to Edwards, who struck out four in 2 2/3 innings of work.
It had been much longer since Kansas squared off with bitter rival Missouri. The Jayhawks (34-23) wouldn't have had to worry about Nebraska (42-16) Saturday night had they been able to defeat the Tigers in the afternoon. In the first head-to-head meeting between KU and Mizzou since the Tigers fled the Big 12 for the SEC, a pair of two-run Tigers bombs won the postseason Border War.
Kirsten Mack drilled a two-run homer that broke a scoreless tie and put Missouri (43-16) ahead permanently in the top of the second. Later, in the top of the fifth, Angela Randazzo smacked a two-run shot of her own down the left field line that put KU in a 5-0 hole and the home Mizzou crowd into a frenzy.
Despite the fervor of the two fan bases, the Jayhawks downplayed the importance of the rivalry, given the NCAA regional stage.
"I think it's fun when you play any team in postseason," said junior first baseman Maddie Stein, who went 2-for-4 against the Tigers. "We're really excited to be here. It's definitely fun reliving the rivalry. I was able to play here my freshman year, and it's always fun when there's more than just playing for yourselves but for your school. I think it's a fun atmosphere."
Fifth-year KU coach Smith was asked if the Border War brought something extra to the game.
"We were excited to be close to home. I think that's what we were excited about," she said.
Even sophomore shortstop Chaley Brickey, whose two-run homer in the bottom of the seventh cut Mizzou's lead to three and gave KU a hint of a chance, claimed beating the old rival wouldn't have given the game more significance.
"We went into it just like we would go into any other game," Brickey said. "We always have energy and we brought it just the same."
KU starting pitcher Kelsey Kessler, a sophomore from Blue Springs, Missouri, left in the fifth, after Randazzo's blast. She threw 4 2/3 innings, gave up nine hits and two walks and didn't record a strikeout.
The Jayhawks didn't get on the scoreboard until the fifth inning, when Taylor McElhaney scored on a ground ball off Brickey's bat. Stein said Kansas failed to adapt to the situation in front of it once Mizzou took an early, two-run lead in the second.
"We've talked all throughout the season about when you get punched, you want to get back and punch back," Stein said. "I don't think we did as good of a job as we have done in the past today, and as good as I think we should have. You expect in postseason, especially, for teams to come out and fight from the start."
Disappointed with the outcome, Smith gave a lot of credit to the Tigers and their coach, Ehren Earleywine. But it was difficult to overlook the slow start, and KU's eight runners left on base.
"I think we just need to be locked-in in our at bats from the beginning," KU's coach said. "It took us awhile to kind of get settled in offensively. We have to do a better job of making adjustments earlier in the game."
The postseason appearance was KU's first since 2006. In program history, the Jayhawks advanced to the College World Series once, in 1992.
---
Missouri 6, Kansas 3
Missouri 021 020 1 — 6 13 3
Kansas 000 010 2 — 3 7 0
W — Casey Stengel, 15-9. L — Kelsey Kessler, 20-15.
2B — Sami Fagan, Mackenzie Sykes, Missouri. HR — Angela Randazzo, Kirsten Mack, Missouri; Chaley Brickey, Kansas.
KU highlights — Maddie Stein, 2-for-4; Brickey, 1-for-2, 3 RBIs, R; Taylor McElhaney, 1-for-3, R.
Nebraska 2, Kansas 1
Nebraska 001 100 0 — 2 6 1
Kansas 000 010 0 — 1 3 2
W — Emily Lockman, 19-4. L — Alicia Pille, 12-7. SV — Tatum Edwards (4).
2B — Hailey Decker, Nebraska; Chanin Naudin, Kansas.
KU highlights — Pille, 7 IP, 6 H, 1 ER, 5 Ks; Naudin, 1-for-3, R.