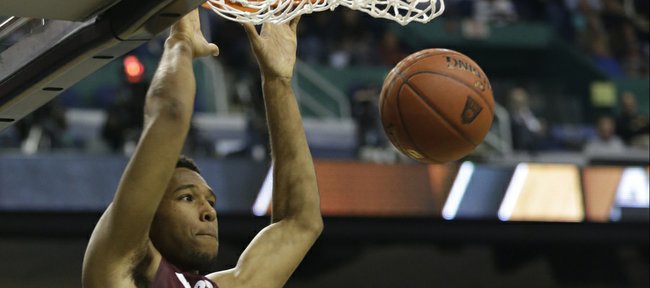 Another college basketball big man has Kansas University on his list of possible transfer destinations.
Trevor Thompson, a 6-foot-11, 210-pound freshman from Virginia Tech, this week was granted a release by the ACC school. According to the Indianapolis Star, Thompson, who averaged 5.0 points, 4.7 rebounds and 16.2 minutes a game, has heard from coaches from KU, Arizona, Auburn, Florida, Georgetown, Kentucky, Nebraska, Northwestern, Ohio State, Purdue, Tennessee and Xavier.
Thompson, who started 11 games for 9-22 Virginia Tech, spent a year at St. John's Northwestern Military Academy in Wisconsin after attending high school at Ben Davis High in Indianapolis. Unranked in high school, he chose Virginia Tech over Tennessee, Xavier, Indiana, Purdue and others. He hit 41 percent of his shots as a freshman and 65.3 percent of his free throws.
Thompson's father, Ryan, spent nine years playing major-league baseball, winning a World Series with the New York Yankees. Thompson will be able to practice but not play in games next season in accordance with NCAA transfer rules. He'll have three years of eligibility left starting in 2015-16.
Earlier this week it was reported KU may have interest in Temple transfer Anthony Lee, who will graduate in May and have immediate eligibility next season. The 6-9 junior is visiting Ohio State this weekend and also is considering KU, Indiana, Iowa State, Notre Dame and Louisville. He averaged 13.6 points and 8.6 boards during the 2013-14 campaign.
Mentoring: Kobe Bryant of the Los Angeles Lakers was asked by a fan about KU's Andrew Wiggins and Duke's Jabari Parker.
"Both have great potential. I'd mentor either one," Bryant wrote on Twitter.
Wiggins, Embiid 1-2: SI.com's Chris Mannix issued his most recent NBA Draft Big Board on Friday, consisting of his top 20 NBA prospects. KU's Wiggins and Joel Embiid were listed as No. 1 and 2 overall prospects in the 2014 Draft.
"Wiggins began the season in the No. 1 spot — and finishes it there," Mannix wrote. "He disappears a little too often, has shown a reluctance to consistently attack the rim and his mental toughness has been questioned, but there is too much brilliance to overlook. Wiggins has that rare ability to make difficult plays look effortless, and his on-ball defense is superior to that of virtually anyone at his position. NBA coaches should be able to draw out Wiggins' star talent.
Of Embiid, Mannix wrote: "Let's be clear: Embiid's back injury isn't raising red flags among NBA executives — yet. Several executives with likely lottery picks told SI.com that they will wait to get a closer look at Embiid's medicals before moving him down on their boards. For now, they still see Embiid as a strong defender with high-level physical tools and the form and footwork to develop into an elite two-way center."
Kerr likes trio: Steve Kerr, former general manager of the Phoenix Suns, was asked by the Milwaukee Journal Sentinel to make a choice between Embiid, Wiggins and Parker in terms of their pro potential.
"I think Embiid has the highest upside just because of his length and his ability to potentially control a game defensively," Kerr told the paper. "Wiggins and Parker are both going to be really good, but I don't see either one dominating a game at the defensive end. But I like all three of those guys. Parker feels like he is ready to play right now. Wiggins is going to score a lot of points next year. These guys are all so young. It takes time. But all three have all-star potential."
Cliff runner-up: KU signee Cliff Alexander of Curie High placed second in voting for the Chicago Tribune's Mr. Basketball Award, the paper announced Friday. Alexander had 55 first-place votes and 402 points; Duke signee Jahlil Okafor of Whitney Young had 64 firsts and 492 points.