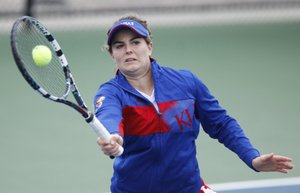 Oklahoma State handed Kansas University its first Big 12 women's tennis loss of the season, 7-0 on Friday at the Jayhawk Tennis Center.
"Against really good teams, you have to have confidence in the pressure moment," KU coach Todd Chapman said. "I feel like the most confident team won those points today, and that was Oklahoma State. That's part of the growing process of the team."
Dylan Windom, Maria Jose Cardona, Maria Belen Ludueña, Paulina Los, Anastasija Trubica and Morgan Barnhill dropped singles matches for KU.
The Jayhawks fell to 11-5 overall, 2-1 in league play, and the Cowgirls improved to 9-5 and 3-0).
Kansas will entertain Oklahoma at noon Sunday.