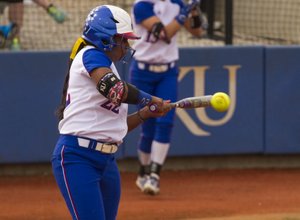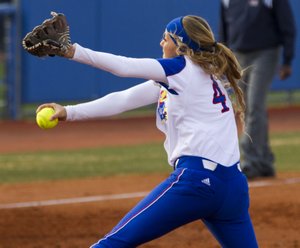 After stranding its leadoff hitter on base for seven consecutive innings, Kansas University finally made its early-inning offensive prowess pay off in the first extra inning of Friday's 1-0, eight-inning softball victory over Oklahoma State at Arrocha Ballpark.
Right fielder Taylor Hatfield's sharp single set the stage at the top of the inning, and junior third baseman Chanin Naudin and freshman first baseman Katelyn Schumacher followed with back-to-back hits that drove in the game's only run.
Naudin, who went 2-for-3, narrowly missed a potential game-winner in the top of the sixth inning when she roped a leadoff double off the top of the wall in left-center field. Like five Jayhawks before her, however, Naudin was stranded at third, and the scoreless showdown continued.
"I did think I had it for a second," said Naudin, whose double two innings later set up Schumacher's heroics.
Schumacher, a freshman from Hays, entered Friday's Big 12 opener with 18 "did not plays" this season. But KU coach Megan Smith inserted her into the lineup as the Jayhawks' designated hitter last weekend, and the young Jayhawk responded with four hits and her first career RBI in three games.
While the productive weekend helped elevate her confidence, Friday's walk-off single went down as an all-time highlight.
"I was really, really excited because I've never had an experience like that," said Schumacher, who finished 1-for-3. "I was just really pumped up that we finally pulled through."
While it was the offense that made the difference in the drama department, Smith was quick to point out that KU's pitching and defense were just as vital to securing the victory.
Sophomore starting pitcher Kelsey Kessler improved to 15-7 after striking out 13 and giving up just five hits. The 13 K's marked the sixth time this season Kessler had reached double-digit strikeouts in a game.
"We always ask our pitchers to keep us in the game," Smith said. "Give us a chance to win. And Kelsey certainly did that. I thought she was phenomenal today."
Schumacher was greeted by some pretty pumped-up teammates as the winning run crossed the plate. A few high-fives, shrieks and smiles were the most common reactions.
"I had the same thing my freshman year, a walk-off home run in the eighth inning, so I know how exciting that is," Naudin said. "I'm like so proud. I just told her, 'Yeah, Schu, I want to be just like you.'"
The victory pushed KU to 25-10 overall and 1-0 in Big 12 play, marking the first time in Smith's five seasons she has won a Big 12 opener.
"We know these are gonna be close games, so to open up with a win is huge for us," Smith said. "We did really well in nonconference, took care of what we needed to take care of, and now we're moving on to conference play. It was a great start for us."
Oklahoma State 000 000 00 — 0 5 1
Kansas 000 000 01 — 1 9 1
W — Kelsey Kessler (15-7). L — Simone Freeman (14-7).
2B: Chanin Naudin (2), KU. 3B: Shelby Davis, OSU.
KU highlights: Kessler 8 IP, 5 H, 0 ER, 13 K; Alex Jones 2-for-4; Chaley Brickey 1-for-2; Harli Ridling 1-for-3, Taylor Hatfield 1-for-4, run, Chanin Naudin 2-for-3, 2 2B; Katelyn Schumacher 1-for-3, RBI.