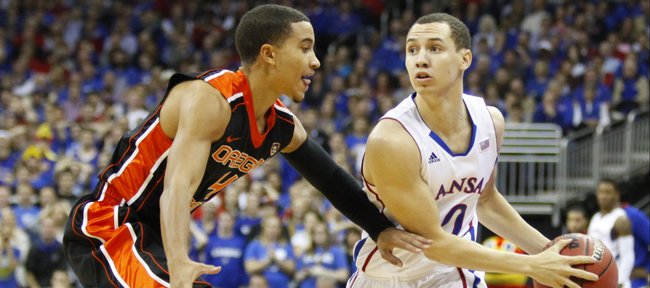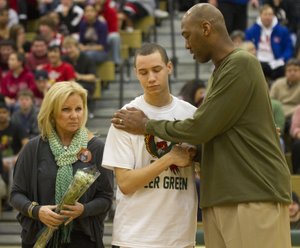 St. Louis — For the first time in his life, Kansas University sophomore Evan Manning will play the part of unaccompanied Jayhawk Friday at Scottrade Center, where the second-seeded Jayhawks will take on No. 15 seed Eastern Kentucky at 3:10 p.m.
Whether it was during his middle school days, his time in high school or last season as a freshman at Kansas, Manning always has been able to look into the crowd and see a few family members there supporting him and his team during the Big Dance.
Friday, they'll all be in San Diego supporting Manning's father, Danny, whose 13th-seeded Tulsa squad will take on fourth-seeded UCLA in the second round of this year's NCAA Tournament.
For the elder Manning, a former KU assistant and the program's all-time leading scorer and rebounder, taking Tulsa to the tournament in just his second season was a big moment in his evolution from assistant to head coach. For Evan, watching the Golden Hurricane qualify for the postseason with a victory in last Saturday's Conference-USA title game was one of the more satisfying moments he can remember.
"It was nerve-racking for me," Evan said. "I was watching the game with (KU teammate) Tyler (Self) and I was freaking out. You should've seen me afterwards. I was yelling in my room."
Not long after the game went final, Evan got the chance to talk with Danny on the phone in El Paso, Texas. His message was simple.
"I told him I was proud of him," Evan said. "He's worked really hard for this and he's always dreamed of this day, to win their conference tournament and get into the tournament with his own team. He's had success at other places, but he really wanted to do it on his own and he and his team proved that they could do it."
Now that he has, the Manning father-and-son duo is just four wins — two by each team — away from a heck of a reunion in Memphis. Although the two teams could not meet until the Elite Eight — something Evan said he was thankful for given that he was praying they wouldn't be paired up in today's second round — being at the same regional site together would be one for the scrapbook.
"I could sense that he was just real proud," Evan said of Danny after last weekend's triumph. "I talked to my mom about it and she said he came back to the hotel room real excited, just yelling and real happy. To go from where they were at the beginning of the season to the end result, you could tell he was really just thrilled with it."
Tulsa and UCLA are slated to tip-off at 8:57 p.m., in the final game scheduled for Friday. Evan already knows where he'll be for that one.
"I'll definitely have to watch," he said.
As for whether he thinks the Jayhawks and Hurricane have what it takes to advance in this year's tournament, Evan, whose only live Tulsa game came in his dad's first ever exhibition outing in late 2012, said he would be rooting hard for both teams.
"I really hope so," he said. "They've been playing great defense, they've been scoring the ball well. Hopefully we can both get two wins and we'll see 'em in Memphis. That would be pretty surreal."