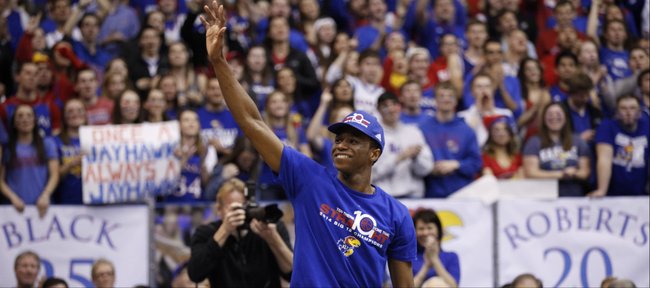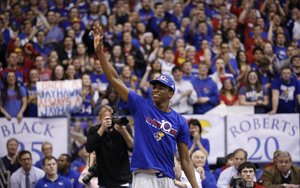 Kansas University basketball coach Bill Self hopes freshman Andrew Wiggins will be named 2014 Big 12 Conference Player of the Year when the league reveals its annual award winners Sunday.
"I don't think there's a clear-cut guy," Self said, beginning a discussion on which individual player deserves the league's top honor.
"You can make a case for (Iowa State's DeAndre) Kane. You can make a case for (ISU's Melvin) Ejim. If you do that, you have two guys you make a case for Big 12 player of the year that haven't had the same (team) success we've had."
KU has a three-game lead over Oklahoma and Texas in the league race with one remaining. Iowa State is four back.
"To me, with our team 14-3 and the next best team 11-6, to me it's almost a logical no-brainer," Self added of Wiggins netting the award. "I don't believe his numbers blow anybody away. That's not who he is. To be the best player on a team that's had quite a bit of success in the league, I'd have a hard time going in any other direction, not that other players can't play as well.
"If there's no clear-cut choice, I really think the best player on the best team ... certainly that's the case with him," Self added.
Wiggins is 10th overall in the Big 12 in scoring (16.0 ppg) and 18th in rebounding (5.8 rpg). ISU's Ejim leads the league in scoring at 18.4 ppg and is second in rebounding at 8.6 rpg. ISU's Kane is seventh in scoring at 16.7 ppg and 11th in rebounding at 6.7 rpg.
"I don't think his mind-set has ever been to be a scorer, but his mind-set is to fit in," Self said of Wiggins. "To me, being aggressive enough to score that much when defenses would be designed to shut him down, I thought, would be hard to do. It hasn't been."
A good example of Wiggins not trying to pad his stats would be Wednesday's 82-57 rout of Texas Tech. Wiggins had nine points in 23 minutes.
"His whole mind-set is, 'Hey, we're fine. We're winning big. It doesn't make any difference,'" Self said. "A lot of times guys make postseason honors and things like that because they put up numbers in games that don't matter, because it helps their season stats. In a situation like this when the game was in hand, it doesn't matter to Andrew. I think that's one thing that's really cool about him."
Self said, "He scores more than I thought he would. He's averaging a little over 16 a game. I thought he'd be a guy would labor getting 16 a game. He gets 16 a game pretty easily. A lot of things from a stats standpoint I thought he'd have to improve in a lot of areas to get there. It's not been hard for him to get there. He's been pretty consistent."
Uniforms: KU's basketball team and adidas revealed the "Made in March Uniform System" for the 2014 postseason Thursday. According to the press release, "Made in March Uniforms feature a functional perforated print pattern along the leg of the stretch woven short to enhance breathability and ventilation, keeping players cool as the clock winds down. adidas' quick-drying jersey technology, found in current NBA uniforms, along with ClimaCool zones on the chest, back and side, move heat and moisture away from the body to keep the jersey light and dry during competition. To spark team unity and pride, Made in March uniforms feature the school's Rock Chalk rally cry on the inside collar of each jersey."
The Jayhawks likely will wear the new uniforms one or more times in the Big 12 postseason tournament. To see a picture of the jerseys go to the web address http://bit.ly/1ceONoC
Tweets: Joel Embiid's Twitter post on Senior Night: "Amazing night for the seniors...Can't wait to be a senior. Too bad I didn't play but they took care of business."
Recruit Myles Turner's Twitter post on Senior Night: "GREAT NIGHT IN THE PHOG!"
Cliff honored: KU signee Cliff Alexander has been named the Chicago Sun Times player of the year. The 6-foot-9 center from Chicago Curie High is Rivals.com's No. 4-ranked player nationally.