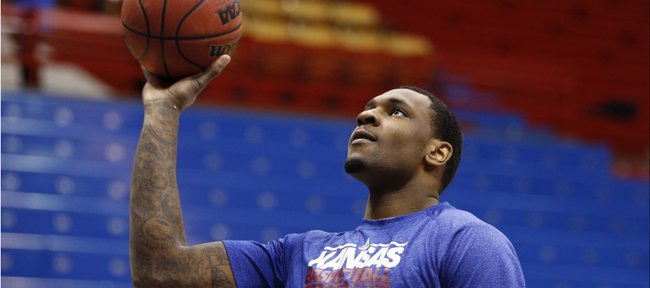 Former Kansas University basketball center Tarik Black will be playing for the Houston Rockets' summer league teams in both Orlando, Florida, and Las Vegas, he confirmed on Saturday.
The 6-foot-9, 260-pounder, who played three years for Memphis and one at KU, was not selected in Thursday's NBA Draft.
The Orlando Summer League is July 5-11 and the Vegas Summer League is July 11-21.
Andrew Wiggins' Cleveland Cavaliers, by the way, will meet Jabari Parker's Milwaukee Bucks in a battle between the top two picks in the draft at 7 p.m., Central time, July 11 at Cox Pavilion in Las Vegas. That game is the highlight of the first day of the Vegas summer league. The game will be shown on NBA TV. Also, former KU forward Thomas Robinson will play for Portland's summer league team in Vegas.
McLemore still popular in Sacramento: Former KU guard Ben McLemore, who will play for the Sacramento Kings' summer league team, may be competing for playing time with 6-foot-6 Michigan guard Nik Stauskas next season.
The Kings selected Stauskas, who plays the same position as the 6-5 McLemore with the No. 8 pick in the 2014 draft.
"I think people who think we automatically take Nik Stauskas (think) that we don't appreciate or love Ben. That's not the case," Kings general manager Mike Malone told the Sacramento Observer. "Ben McLemore has had an incredible summer so far and I know he is anxious to show that in summer league in Las Vegas in a couple of weeks. But both of these guys can play together. People don't know, but (Stauskas) can play a little point guard. He has that kind of command of the basketball."
McLemore, who is entering his second year in the league, will hold his first "Sir McLemore Summer Slam" from 8 a.m. until 9 p.m. Saturday, July 26, in Lawrence. It includes a morning run as well as a dribbling event down Massachusetts Street from 8 a.m. to 10 a.m., a brunch with Ben from 10 a.m. to 11:30 and a Slam Dunk showcase from 7 p.m. to 9 p.m. at East Lawrence Rec Center..
Manning speaks: Former KU All-American Danny Manning spoke to Philly.com about Joel Embiid, who was taken third in the draft by the Philadelphia 76ers.
"Every time I watched Joel play, he impressed me, because he got better every time I saw him," said first-year Wake Forest coach Manning, who coached at Tulsa the past two seasons. "He really has a presence defensively, has soft hands and is always continuing to improve his offense. Joel is obviously a very talented young man with a huge upside. Every time I watched him play, he added something different. He has great timing and can instinctively block shots. He has great hands and will continue to improve on the offensive side of the ball. He's comfortable at stepping out and playing the pick-and-pop game, which is so big in the NBA."
Surgery option: Embiid spoke about his recent surgery to repair a stress fracture in his right foot on the Dan Patrick radio show.
"It was pretty scary," Embiid said. "The doctor gave me two options — the first was not the surgery. The second was I needed the surgery. He told me the surgery would be better and my foot was going to heal and wasn't going to be a long-term problem, so I decided to have surgery on my foot.
"The nonsurgery option was I just recover (with rest)," he added. "It was just going to get healed. The problem eventually would come back. I went with the surgery. They said it would not be a long-term problem and the problem would not come back."
Adams on list: Jalen Adams, a 6-1 senior-to-be point guard from Cushing Academy in Ashburnham, Massachusetts, has received scholarship offers from KU, UConn, Louisville and others according to zagsblog.com.
Adams, who is ranked No. 26 in the recruiting Class of 2015 by Rivals.com, is from the same hometown as former UConn standout Shabazz Napier.
"With Kansas, you see the number of guys they have in the draft almost every year. Also, Wayne Selden, Jr. is another Boston guy and he's known Jalen for a long, long time," Vin Pastore, Adams' AAU coach with Mass Rivals, told zagsblog.com.
"In terms of Jalen's upside, he's a 6-2 guard with a 6-6.5 wingspan," Pastore added. "He has exceptional length and athleticism. He has tremendous speed, gears beyond gears, just a really fast player. He can score in a multitude of ways and has good touch around the rim. If he can polish his jump shot, make it more consistent and add some range, he would become what we call unguardable. I think he can reach the NBA. I think he's that good. He's got great upside. When he played for us, we were undefeated. He lets the game come to him almost in slow-motion. There were people saying he was the best guard at the Nike Skills camp."