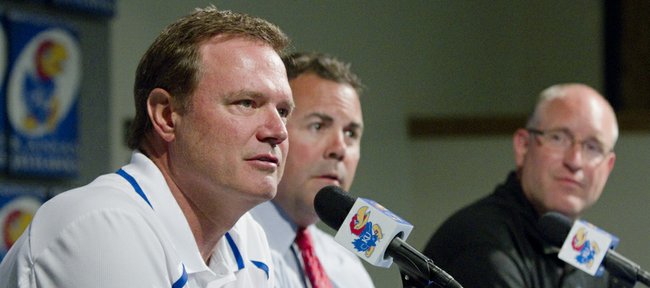 Podcast episode
Kansas University men's basketball coach Bill Self, athletic director Sheahon Zenger and Dr. Craig Jonas, the deputy head of the USA Delegation for the World University Games discuss KU's selection as the team to represent the United States in the 2015 event in Korea.
Podcast episode
KU junior Perry Ellis reacts to the Jayhawks being chosen to represented the United States in the World University Games in 2015 in Korea.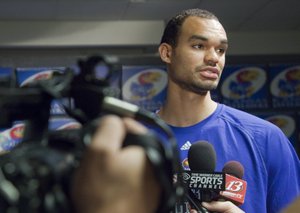 Kansas University basketball's standing as one of the top programs in the country was one of the biggest reasons the Jayhawks were chosen to represent the United States in the 2015 World University Games in Korea.
"We went through a pretty strong, long process to find the most appropriate team and Kansas was a great fit," said Craig Jonas, the deputy head of the USA delegation in charge of selecting the representative, during a news conference Tuesday at KU. "When you walk the halls here, you realize what a great tradition Kansas has, and we're ecstatic about having them there."
The U.S. International University Sports Federation's choice of a complete college hoops squad was a change from years past, when American all-star teams were sent to the Games.
Asked about the specific criteria that set KU apart, Jonas pointed to the Jayhawks' five-year record — No. 1 in all of college basketball — plus preseason rankings, expected returners and last year's RPI. A smaller, more speculative factor also played a role.
"There's always the intrigue of how will a cohesive college team do versus an all-star team that's only been together for a couple of days," Jonas said. "So it'll be a fun experiment if nothing else."
KU coach Bill Self, who recently has started to dabble more and more with recruiting international players, said he and his program were thrilled to be picked.
"I just don't see anything but positives," Self said. "When we were approached initially, I was like, 'Well that would be too good to be true.' It's not even from a competitive advantage standpoint but from an advantage of representing our country in such highly competitive games against the world. I don't believe there's an amateur tournament in the world that we could play in that we could get this type of competition."
Added junior Perry Ellis: "It's an honor that they decided to pick us and we're all really gonna take ownership of it and do the best we can. It'll be a great experience for us to go down there and play against all of these pro players."
In addition, participating in the 2015 World University Games, which will take place July 3-14, will allow Jayhawks to spend unlimited time practicing together in the gym, beginning in June of next year.
"We'll be working with our guys and treating it like a preseason type situation, getting ready for our first game," Self said. "It's pretty exciting, and I think everybody in our program should be jacked about it."
Roster limits
KU will be able to take a roster of 12 players on the trip. Because of the uncertainty of one-and-done players these days, that might leave a couple of holes.
However, because the World University Games are open to players 18-to-25, (born between Jan. 1, 1990 and Dec. 31, 1997), Self said he could fill his roster with former Jayhawks who fell in that age range.
"We could potentially take ex-players as long as they're enrolled in a class," Self said. "If our roster is 12 that would not be an option, but if our roster is 10, we could literally have tryouts of ex-KU players to see who best fits our team to give us a better chance to have success over there."

No Mykhailiuk
Because the Jayhawks will be representing the United States, no foreign-born players will be allowed to join the Jayhawks in Korea.
That means no roster spot for KU newcomer Sviatoslav Mykhailiuk, who hails from the Ukraine and is expected to report to campus later this summer.
"Sviatoslav will be playing with his Ukrainian team," Self speculated. "If you're not American-born you're not eligible to play for the USA Team. If you were to look at one negative, that would be the one negative, that we could not have our entire group of guys together, potentially, but that's a very minor thing."
Funding
KU athletic director Sheahon Zenger said the cost of the trip would be split between KU Athletics and Basketball Travelers, Inc., which helped select the Jayhawks.
Regardless of the final bill, Zenger said the opportunity to have KU, both as a university and a basketball program, represent the country in something as special as an international event was well worth it.
"We're all so proud of our history and tradition here, and this just allows us to put that out there on the world stage," Zenger said.
NCAA Tournament on steroids
Unlike past international trips made by KU, such as to Canada in 2004 or 2008 or Paris and Switzerland during the summer of 2012, this experience will be a much more hectic event. Games will be closer together, scouting reports will have less time to be executed and rest will be tougher to come by.
"A lot of these teams treat the World University Games as kind of the training ground for the Olympics or the World Championships," Jonas said. "So they'll be sending very, very strong teams."