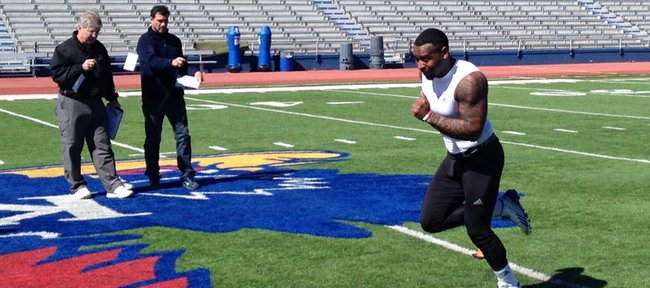 Former Kansas University running back James Sims is still looking for his shot in the NFL.
In early May, Sims, KU's third leading rusher of all time, went undrafted but was picked up as a free agent by the Green Bay Packers in the hours immediately following the draft. One problem: Sims' deal with the Packers was for a weekend tryout only and did not come with any financial compensation or guarantee.
With Green Bay's rookie mini-camp having come and gone, Sims now is back home in Irving, Texas, waiting for the next call, according to Demond Kauffman, Sims' agent, who is in his second year as an NFL-certified representative.
"He did fairly good at the tryout," Kauffman told the Journal-World by telephone on Monday. "But, financially, the Packers were committed to too many running backs and weren't able to offer him a contract."
So, just as he was throughout last month's seven-round draft, Sims is watching and waiting for a chance that may or may not come.
Kauffman, whose company, Royalty Management, is based in Houston, said "several teams" had shown interest in Sims since he left Green Bay and that he was keeping an eye on how the NFL's ongoing Organized Team Activities played out while searching for Sims' next opportunity.
"He's still working out, staying in shape and waiting to see what's the next move," Kauffman said. "I felt the Packers were a great spot and, actually, there's a chance that he might get called back into their camp. I think he'll get his chance."
Sims is now hoping to be one of 90 players invited to one of the 32 NFL training camps later this summer. From there, he would have to survive a series of cuts designed to whittle down that number to the 53-man roster that each franchise takes into the regular season in September.
"He's been doubted his entire career," Kauffman said. "And we have 100 percent faith that he'll make the most of whatever opportunity he gets."
Turzilli leaving?
Wide receiver Andrew Turzilli, who graduated from KU in May, revealed via Twitter on Monday that he was leaving Kansas.
"Well my time at Kansas has come to an end," Turzilli wrote. "Thanks for 4 great years."
A native of Butler, N.J., Turzilli played three seasons at KU after red-shirting in 2010. He caught 27 passes for 491 yards and made seven starts.
Turzilli remained on KU's official roster as of Monday evening, but, as a recent graduate, he could transfer to another school and be eligible to play his final season immediately. There's no word yet on whether he will continue to play football.
Commitment coming?
Jarek Smalley, an offensive lineman at Garden City Community College recently told JayhawkSlant.com's Jon Kirby that KU was his run-away leader and that he may commit to the Jayhawks during his official visit later this month.
The 6-foot-6, 315-pound Smalley is listed as a tackle and, according to Rivals.com, was receiving heavy interest from Arizona, Arkansas, Kentucky, Oklahoma State and South Florida.
Thus far, KU's lone commitment in the Class of 2015 is from Bishop Miege High quarterback Ryan Willis.