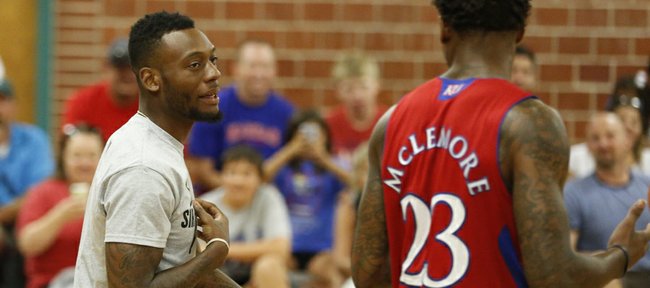 Photo Gallery
Sir McLemore Summer Slam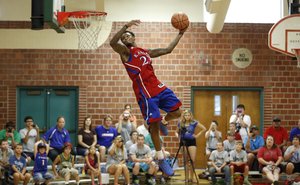 Ben McLemore and some former and current Jayhawk players show off their dunking skills and play a little one-on-one with some of the younger fans.
Former Kansas University point guard Naadir Tharpe was back in Lawrence this weekend to help out former KU teammate Ben McLemore at his Sir McLemore Summer Slam event, held Saturday at the Community Building.
Tharpe, who left KU this spring with the intent to transfer after three seasons with the Jayhawks, recently decided to forego his final season of college eligibility to turn pro instead.
Saturday, he explained that becoming a KU graduate and finishing what he started, academically, played a huge role in his decision.
"That's why I'm back here now," Tharpe told the Journal-World. "So I can figure out how to get started again, whether it's online classes or whatever. The reason I came to this school was because of the dudes before me, and I'm appreciative of everything that happened to me here."
Tharpe currently sits 22 hours shy of graduating and has talked with his former advisers at KU about finishing his education in Lawrence. Had he elected to transfer to another school, he could have lost some of those hours and further delayed the process of finishing school and turning pro. What's more, he would not have been officially recognized as a KU graduate.
The Worcester, Massachusetts, native said the whole process has been tough to sift through but added that he feels good about the decision he made and is looking forward to trying out for the NBA's D-League in the coming months.
"You play three years at Kansas under coach (Bill) Self and the guys that were around me, I feel like the (D-League's) going to be a different type of adjustment, but I don't think there's anything tougher than being here."
While Tharpe would like to get his professional career started in the NBA's minor league, he said he had no aversion to heading overseas if that's where the future takes him.
"Right now I'm at a point where basketball is what I do for a living," he said. "If that means I have to go overseas to provide for my family, that's what I'll do."
As for his personal life, which was turned upside down last spring after a risqué photo of Tharpe and a woman surfaced on the Internet, things are good there, too.
Tharpe said his daughter, Amara, is in good health and going strong again — "She's doing really well. She's running around wild. She's crazy. Everything's good." — and that he's felt a lot of love from fans, former teammates and family since deciding to leave the KU basketball team.
"Everything's going really well, actually," he said. "It was hard, only having one more year under my belt, but at the end of the day I had to do what was best for my life."