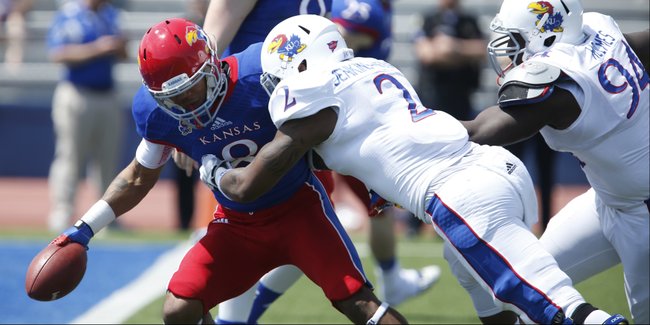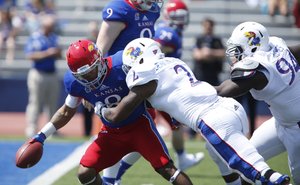 Marcus Jenkins-Moore's career as a Kansas University football player will end without a regular-season appearance.
The junior linebacker/defensive end announced he was leaving Kansas via Twitter on Thursday afternoon. KU coach Charlie Weis confirmed the departure.
"Marcus asked for and was granted a release to transfer and we wish him well in his future endeavors," Weis said in a statement.
Jenkins-Moore, a 6-foot-3, 230-pound junior-college transfer from Pierce College, red-shirted in 2013 after injuring his knee during his first workout on campus last summer. In his lone appearance in a KU uniform, during this April's spring game, he made three tackles.
"Thanks to all the KU fans," Jenkins-Moore tweeted, "but (I'm) sad to say that I won't be returning to KU."
Reached by the Journal-World, Jenkins-Moore said details of his departure, which involved issues with some paperwork, escalated quickly and amounted to little more than a stretch of bad luck that began with his injury.
Despite having to say goodbye, Jenkins-Moore said he appreciated the chance to come to KU.
"This was my first visit and I committed here," he told the Journal-World while packing up his belongings. "That shows you how much I loved the place. This isn't the first time that adversity struck my life. I met a group of guys out here that are just trying to win. I respect those guys more than anything. I'm not sour. It is what it is."
A three-star prospect who chose Kansas over offers from a dozen other BCS programs, Jenkins-Moore never really factored into the mix on KU's defense. His position appeared unchanged heading into this season.
At Big 12 media days Monday in Dallas, Weis was asked about Jenkins-Moore, as well as a couple of other junior-college transfers who came in with the self-dubbed "Dream Team" but did not play in 2013 for one reason or another.
"I saw a lot more out of (Andrew) Bolton and (Kevin) Short than Jenkins-Moore," Weis said, "Because Jenkins-Moore had a knee (injury) that's taken the whole time just to recover. Jenk came in as a dynamic pass rusher, but I still think that he's a ways away at this point."
Jenkins-Moore follows former Pierce teammate Marquel Combs out the door. Both were highly touted juco prospects who wound up not making an impact at Kansas. Combs, the former No. 1 juco prospect in the country, elected to leave KU last September, shortly after the 2013 season began.
Jenkins-Moore said things were too fresh for him to know what his future held. He added that he already had reached out to a few programs and would likely drop down a division so he could play immediately, since he burned his red-shirt year by sitting out with the injury last season.
Weis at ESPN
Weis spent the better part of the day Thursday at the ESPN studios in Bristol, Connecticut, promoting Kansas and the Big 12 as part of a two-day "car wash" that featured nine of the 10 Big 12 coaches.
Weis participated in a mixture of interviews with more than 25 different shows and writers across ESPN's television, radio and digital media platforms. KU's third-year coach also mingled with St. Louis rapper Nelly, who, according to ESPN's Brett McMurphy, claimed Missouri as his favorite college football program but admitted to liking Kansas basketball.
OL Fusimalohi honored
KU senior Ngalu Fusimalohi, who started all 12 games at left guard for KU in 2013, has been named to the 2014 Polynesian College Football Player of the Year Watch List by the Polynesian Hall of Fame.
The Daly City, California, native earned second- and third-team preseason All-Big 12 honors by Phil Steele Magazine and Athlon Sports, respectively.