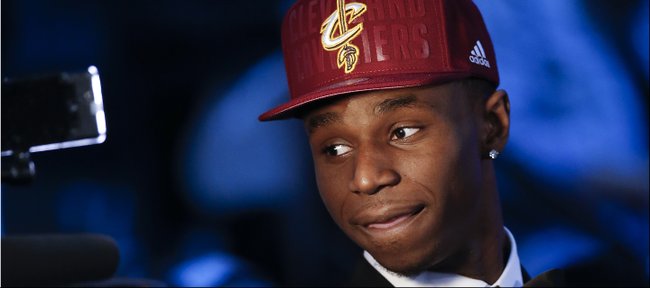 The public posturing from both sides surrounding a potential Andrew Wiggins-for-Kevin Love swap has spiced up the short NBA offseason.
It started weeks ago when Minnesota Timberwolves owner Glen Taylor said he had no interest in dealing Love. He slightly softened his stance a few days ago, saying he wouldn't deal Love without receiving equal value in return. Love wants out.
Meanwhile, the Cleveland Cavaliers floated word they had no interest in dealing Wiggins, the No. 1 overall pick.
It's lying season in the NBA. Lies, lies and more lies, all aimed at giving up less to get more.
Of course, the T'wolves would like to keep Love, but they also don't want to let him walk without getting anything in return when he becomes a free agent after this coming season.
Sure, the Cavs would like to hold onto Wiggins because he's so quick, long and explosive. But if landing a proven star of Love's value requires surrendering a possible future star, the Cavs would be nuts not to do that. Wiggins, an unsure ball handler and inconsistent shooter, has a lot to prove and comes with no guarantees.
Naturally, new Cavs coach David Blatt went out of his way to praise Wiggins' performance in the NBA summer league. He didn't mention that he had one assist and 11 turnovers in 120 minutes for the same reason you don't play up the blue smoke gushing out the rusted tailpipe of your first car that you're trying to deal before it turns your entire driveway into an oil field. You play up the strengths and gloss over the weaknesses when trying to make a trade.
Wiggins, 19, impressed at the summer league in Las Vegas, averaging 15.6 points a game. In 2008, Love, at the age of 19, led the same league in rebounding with 13.5 a game and averaged 18 points.
Blatt, an NBA rookie coach at the age of 55, won four consecutive Israeli championships as coach of Maccabi Tel Aviv. Blatt took the job without knowing LeBron James would become the center of his universe. Coaching the best player in the world comes with understood expectations: Win now or walk. The Cavs have a far better chance of doing that with Love than Wiggins. The Timberwolves don't need Wiggins to be good today and can stockpile lottery picks to go with him.
As much as Kansas fans would love to see Wiggins play with the certain TV darlings in Cleveland, and as cool as it would be for Wiggins to team with James, it's difficult to imagine the teams won't work out a deal that sends Wiggins to Minneapolis.