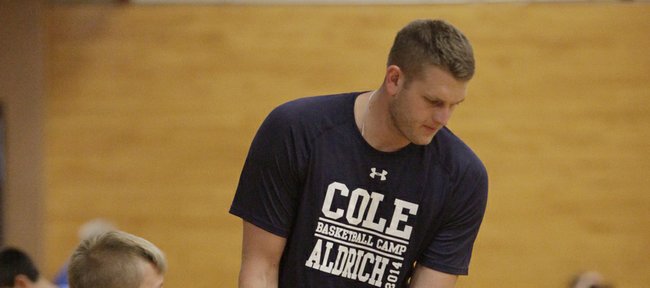 Former Kansas University center Cole Aldrich said goodbye to his 65 basketball campers early Wednesday afternoon in Robinson Gym, leaving today's final-day duties to his wife, Britt, as well as former KU players Mark Randall, Jeff Gueldner and Sherron Collins.
Aldrich, the 6-foot-11, 245-pound fourth-year NBA player, had a good reason for leaving town just a tad bit early.
He's ticketed to practice with the New York Knicks' summer-league team today in advance of Friday's opener against Dallas in Las Vegas.
Aldrich, who has played for four teams in four years, is a free agent who would most certainly like to re-up with New York, a squad led by first-year coach Derek Fisher, a former teammate of Cole's with the Oklahoma City Thunder.
"I sent him a text after I found out he'd be coach," Aldrich said. "I played with him in OKC. We were close. He's going to do a great job in New York. That's a tough place to be a coach. He has those skills and that mind-set of being a really good coach. When I was his teammate, he'd take the white board and draw stuff up. He's good with all that. I'm looking forward to summer league. He's going to be there coaching. It's going to be fun."
If the Knicks do sign Aldrich, there's a chance he'll be primary backup to Samuel Dalembert.
"I kind of found my niche in New York," said Aldrich, who averaged 2.0 points and 2.8 rebounds while logging 7.2 minutes a game in 46 contests with the Knicks last season. In a three-game January stretch versus Boston, the L.A. Lakers and Charlotte, he had 18 rebounds and six points.
In the final three games of the season, a stretch in which the Knicks gave him a chance to show what he can do, Aldrich had 16 points, 13 rebounds and five blocks against Toronto; 13 points and 13 rebounds against Boston; and eight rebounds and six points against Chicago. In the first start of his career, a March 12 game against Boston, he had 12 points, 10 rebounds and three blocks.
"I'd love to," he said of staying in the Big Apple. "You spend a full year someplace, invest that time and energy. We really enjoyed it. The guys on the team were fun. We fell short of making the playoffs, but made a good push for it. We'll go to Vegas, play a few games and continue to take it (the free-agent process) from there."
The man who controls Aldrich's fate in New York is Knicks president Phil Jackson.
"He was around a little bit last year, the end of last year. I'm excited. He's going to do a lot of good things for that organization," Aldrich said. "He already has. Hiring Derek as head coach. They're going to be good for the city of New York.
Other big men on the Knicks' summer league team: 6-9 Jeremy Tyler, 6-11 Jordan Henriquez, 7-1 Jordan Vandenberg and 6-10 Cameron Moore.
"That is the difficult part of summer league — you are not playing with guys you are normally used to playing with," Aldrich said. "Some of your old teammates are there (such as Tyler, Shannon Brown, Tim Hardaway, Jr.). You have new guys, guys coming from college and trying to make a roster. It's an experience of just going and getting that game time and getting better."
Aldrich's former KU teammate, Sherron Collins, thinks his buddy will continue to do well.
"He's like a brother to me. It's like we are reunited (at camp)," said the 5-11 Collins, who hopes to play ball overseas or in the NBA Developmental League this season. "Every time I see him, it's jokes and old stories. It's good he does this (camp). He makes me want to do it. Cole got it into my head that I need to do one. I will probably try to start a camp here. It's all about giving back."
Collins and Aldrich, who played on KU's 2008 NCAA title team, averaged 15.5 and 11.3 points respectively for a 33-3 team their final collegiate season in 2009-10. Aldrich went No. 11 in the NBA Draft, while Collins was undrafted following that season.
"My memory of him is he always had my back," Collins said. "I could pressure the ball and wasn't scared to get beat. He changed everybody's shot. Being able to share the court with him, being able to run the court with him was great."
This, that: Former KU guard Elijah Johnson will be competing for the Philadelphia 76ers' summer league team in Vegas, the team has announced. ... Former KU guard Mario Little did not play/coach's decision in Oklahoma City's 94-71 loss to Indiana on Wednesday in summer-league action in Orlando, Florida.