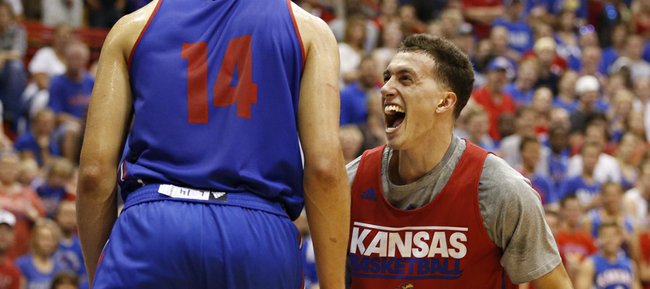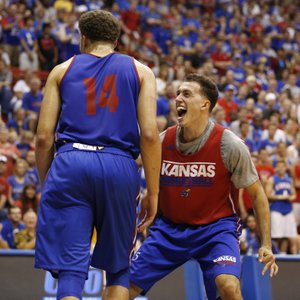 Christian Garrett, a 6-foot-3 senior basketball walk-on at Kansas University, shot through the lane and, despite being closely guarded, scored over 6-foot-6 Kentucky starter/future NBA player Andrew Harrison in late May in one of former NBA coach John Lucas' workout facilities in Houston.
At least one national media member admittedly was a bit surprised to see Garrett — who has played 53 minutes total in three full seasons — holding his own against Harrison and other major-college starters at the Lucas camp.
Why would Garrett spend his own money on camp fees, plane fare and hotel costs at Lucas' camp despite the fact prospects for playing time again appear impossible at KU — a program stocked with scholarship players at Garrett's wing position?
"Two-fold," Garrett said "Obviously, I love this game, and I want to play this game even after I'm here (at KU), so I'm going to work on my game and continue getting better, even if I'm not playing. The other thing is, one of my goals personally is to play and help this team win on the court and do what I can do well (in games). It's something I'm going to keep working at. I'd rather work my butt off and miss than just chill and never even know."
Garrett — he averaged 14.0 points, 7.0 assists and 6.3 rebounds his senior year at IMG Academy in Bradenton, Florida — plans to return to Lucas' camp in August once he completes KU summer-school classes.
"It's a great opportunity, great competition, great training," Garrett said. "For me it was great to just get away, be by myself, have my own room and really just focus on basketball, to be able to play kind of free.
"I've learned so much there, gotten so much better here (at KU)," he added. "To be able to go somewhere and work on my craft was a great opportunity. I can't wait to get back."
KU players such as Elijah Johnson and Tyshawn Taylor have worked out with Lucas in the past and recommended the camp.
"He has different gyms in the area, which he likes to use instead of have his own facility," Garrett said. "He basically has everybody in there — NBA dudes, people who enter the draft, college dudes, high school dudes and 6-year-olds, everybody. He kind of splits it up by age group. It's a lot of ball-handling, drill work and a lot of playing 1-on-1, 3-on-3. It's really competitive."
Garrett said some of the players he practiced with and against were NBA players Austin Rivers, John Lucas III and Tristan Thompson, plus college players C.J. Fair (Syracuse), Tim Frazier (Penn State), Geron Johnson (Memphis), Keith Hornsby (LSU) and Troy Williams (Indiana).
"Honestly, I didn't match up that much with the Harrison twins (Andrew and Aaron). He (Lucas) had them match up with somebody else a lot," Garrett said. "We did get to play in the thick of things. They are good players. They can play. It was fun, also I know we've got a game against them early on (KU vs. Kentucky on Nov. 14) in Indianapolis. It was kind of fun getting a read on them. I know when we play I can kind of tell everybody some of their strengths and weaknesses."
KU coach Bill Self appreciates the effort of his scholarship players and walk-ons alike.
"Christian has worked really hard. He's much improved," Self said of the player who is still seeking his first bucket in a game. He's 0-for-4 from the field in his KU career.
Garrett, who had scholarship offers from Alabama, North Carolina State and Harvard during his year at IMG, has a network of friends that includes not only KU basketball players but other Jayhawk students as well.
His mom, Cynthia, and stepdad, Roger, who live in Lawrence, host Bible study at their house on Thursday nights during the school year and even into the summer.
There have been up to 100 folks in the house at one time.
"We have athletes, non-athletes, a few non-students, high school kids. It's cool because it's people coming from all over," Garrett said. "We've had people from all types of beliefs or stages in their life. It's about learning and experiencing God. It's really fun."
Some of Garrett's teammates have attended the Bible study.
"Tarik (Black, former KU forward) is one of my best friends. Last year he went every single Thursday. We were really committed to that," Garrett said. "Everybody knows it's open. That's something I want to always make sure I do and can do a better job of, make sure everybody knows it's open. It's relaxed, no pressure."
The sport-management major, who also has experience playing summer basketball overseas for Athletes In Action, has big dreams for his senior year at KU.
"The bottom line my senior year is to win," he said. "Every single workout, every single meeting, every time we step on the court, every interview we do, whatever it is, I want it to be as successful as it possibly can. This year we really want to make it one of the most special years we've ever had at KU."
Garrett is in no hurry to depart KU, especially with the Jayhawks headed to Korea as USA representative in the World University Games next July.
"I told him (Self) I've got to break my leg to get a medical red shirt," Garrett joked. "It's so unfair. I will have Evan Manning run over my leg or something so I can stay another year."