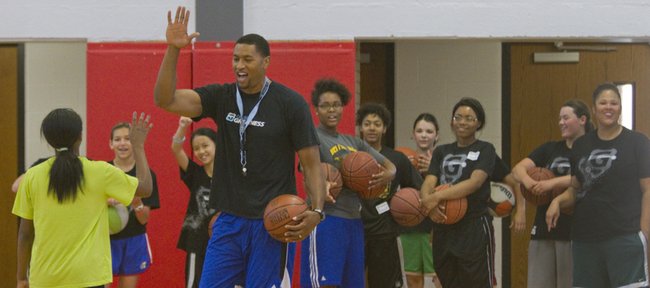 There was a time when Kansas University basketball standout Wayne Simien, an All-American and Big 12 Player of the Year in 2005, couldn't go anywhere in Lawrence without getting recognized.
At the conclusion of a three-day basketball camp for girls Thursday at Lawrence High, the man who produced 38 career double-doubles for the Jayhawks said that's no longer the case.
"I've been removed far enough that kids don't even remember when I was playing," the 31-year-old Simien said, "which is why it's the Called to Greatness Camp, not the Wayne Simien Camp. Like, 'Who's Wayne Simien?' But again, that's just fine, because it's more about the message and the skill than it is about the person. I don't want to make this about personality or reputation."
Simien's job as the KU campus minister for Called to Greatness keeps him around the program's current basketball players while he aims to help students and student-athletes "navigate the waters of college that are sometimes turbulent."
One couldn't tell by looking at him, but the 2005 first-round NBA Draft pick of the Miami Heat only plays basketball about once a year and stays fit with all the exercises and nutritional discipline Kansas strength coach Andrea Hudy "beat over" his head. Chasing around his five young kids does the job, too — "That's a calorie-burner," Simien added.
He hasn't gone up against any of KU's incoming freshmen in pick-up games, but the one-time big man on campus has seen a few of them play in person and is excited about Bill Self's haul of post Cliff Alexander, point guard Devonté Graham and wings Sviatoslav Mykhailiuk and Kelly Oubre.
"I'm looking forward to seeing them in action," Simien said. "I really like Devonté Graham, because he was the freshman I knew the least about before he came here. I think he and Frank (Mason, a sophomore guard) could be a great tandem for us this year. And, of course, playing the post, I'm partial to big guys. Cliff, he's pretty raw, but his upside and his athleticism will make him a force to be reckoned with in the Big 12. And I think you pair that with a skill guy, like (junior power forward) Perry Ellis, that's got incredible skill, with a raw, physical presence with Cliff, I think that'll be a great combo."
Simien hasn't seen a lot of 6-foot-8 Alexander yet, but said his build and ability remind him of Darnell Jackson.
"If he can go on to have the type of career Darnell did and be a part of a championship team and collect some more Big 12 trophies, that'll be great," Simien said, adding Alexander could develop his skills enough to be an effective scorer, much like Thomas Robinson.
Simien scored 1,593 career points at Kansas (13th all-time). He still enjoys talking basketball, but, after retiring from the pro ranks five years ago, he doesn't have any coaching aspirations — other than helping out a team one of his kids ends up playing on.
Simien simply hopes to harness his hoops background in his religious work, which he described as both challenging and rewarding.
"I see myself in this capacity for a long time," he said.
N.Y. adds Aldrich to summer squad
The New York Knicks announced their roster for the Vegas Summer League, and though KU product Cole Aldrich isn't under contract, he will be included on the team.
Aldrich played 46 games this past season with New York, which will be coached at the summer league by newly signed first-year head coach Derek Fisher.