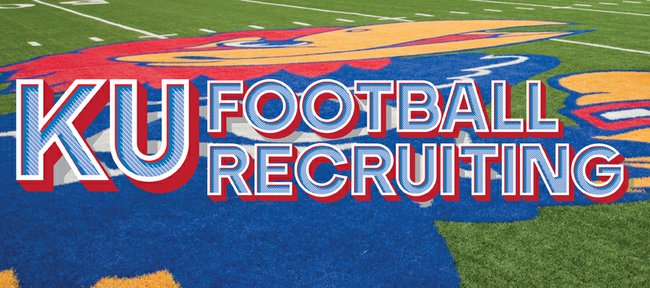 Two of the top-ranked junior college players in the country chose Monday night as the night to announce their future plans.
Kansas University's already deep backfield got a little deeper when DeAndre Mann, the top-ranked junior-college running back in the country according to JCGridiron.com, orally committed to KU Monday evening. A couple of hours later, JayhawkSlant.com broke the news that KU also received an oral commitment from the nation's No. 2-ranked defensive end, Arizona Western's Anthony Olobia.
Mann, a 5-foot-10, 205-pound Miami native, chose KU over Georgia State. He drew offers from Miami (Fla.) and Purdue and others, and even turned down an invitation to visit the Hurricanes program he grew up watching.
The powerful back who earned first-team All-American honors after rushing for 1,706 yards and 30 touchdowns for Hartnell College during 2013, said the opportunity to be tutored by coaches with NFL ties and test himself in a power conference played big roles in his decision.
"Growing up in Miami, I have played very good football," Mann told Jon Kirby of JayhawkSlant.com. "I know people talk a lot about the football in Texas and California but the football in Miami (and Florida) might be the best. Playing in the NFL is one of my childhood dreams. So I thought if I want to prove that I am that good then I need to play in a good conference like the Big 12. I want to prove to people what my skills are."
Olobia, 6-5, 240, chose Kansas over offers from Oklahoma, Texas Tech and Utah. Olobia made an official visit to Auburn in December and later described the experience as "the perfect visit." Despite Auburn's interest, the Rivals.com database shows no offer was ever extended, which helped KU land Olobia.
Mann's commitment bolsters a KU backfield that already includes returners Brandon Bourbon, Taylor Cox and Darrian Miller, as well as incoming freshman Traevohn Wrench, who is expected to sign his national letter of intent with KU on Feb. 5. Olobia's commitment gives KU six defensive linemen in the current class, including four defensive ends.
Mann and Olobia become the 22nd and 23rd commitments in KU's Class of 2014. The Jayhawks have the ability to sign up to three more players in the current class but are likely to leave a spot or two open for potential transfers down the road.