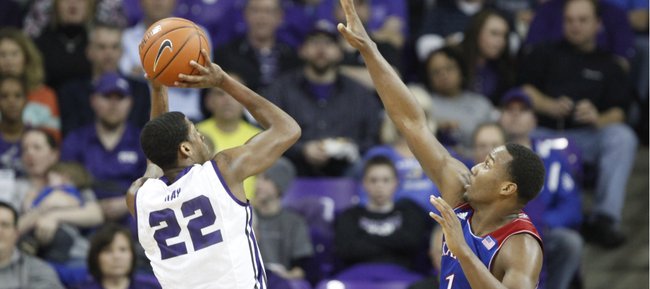 Photo Gallery
Kansas basketball v. TCU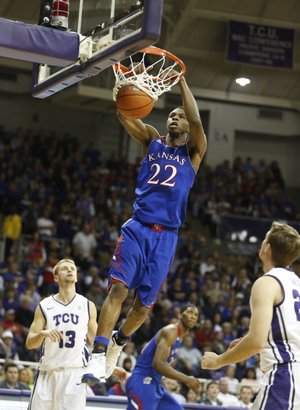 Images from Saturday night's game between the Jayhawks and Horned Frogs at Daniel-Meyer Coliseum in Fort Worth, Texas.
Podcast episode
Bill Self says Andrew Wiggins can play as aggressively in every game as he did vs. TCU.
Podcast episode
After scoring career-high 27 points vs. TCU, Andrew Wiggins talks about Bill Self motivating him
Kansas 91, TCU 69
Fort Worth, Texas — Fans in TCU's student section brought signs reminding Kansas University's basketball players of last year's famous flop in Fort Worth.
"Welcome back," was Saturday's greeting from one purple-clad spectator seated a stone's throw from the KU bench.
"Pick Up Game Later at the Topeka YMCA," read another, targeting Bill Self for his statements after last season's loss to the Horned Frogs in which he said the Jayhawks hadn't played as poorly since losing to Topeka YMCA in James Naismith's days.
There would be no need for any such fan ridicule — or coach criticism — following the 2013-14 rematch at sold-out Daniel-Meyer Coliseum. The Jayhawks, who tallied just 13 points at halftime a year ago, rolled to 53 first-half points in a 91-69 rout of the Horned Frogs that silenced anybody in a record crowd of 7,494 who might have been hoping for a repeat of last February's monumental upset.
"Last year we didn't leave here very happy. It wasn't just because we didn't play well. It was because TCU whipped us. Tonight we played much better. We were efficient offensively and tried defensively the first half," said KU coach Self after the Jayhawks improved to 15-4 overall and 6-0 in the Big 12. TCU fell to 9-10, 0-7.
"I think we were probably more ready to play because of what happened last year," Self added. "I don't know how much more. We played with more energy tonight. I thought we played with as much energy in the first half tonight as Iowa State or OU (road wins in Ames and at Oklahoma)."
KU had 14 points 4 1/2 minutes into the game Saturday in topping the fabled 13-point mark before the first TV time out. Joel Embiid scored seven points, Andrew Wiggins five and Jamari Traylor two as the Jayhawks led, 14-6. Up 14-10 at 14:11, the Jayhawks rolled, 12-2, to take a 26-12 lead. Wiggins and Perry Ellis had four apiece in the run.
By halftime, Wiggins had scored 19 of his career-high 27 points, while Embiid had 11 of his 14 points and all six of his boards. KU's 61.5 percent first-half shooting (57.4 for the game) helped take the Jayhawks to a 53-32 advantage.
Yes, this year's rematch in effect was over at halftime. KU won the second half, 38-37.
"We were aware of what happened here last year," said freshman guard Frank Mason, who like the rest of his teammates, watched films of last year's TCU game at practice this week. "We wanted to make sure to come out with energy and have a different outcome this time."
KU freshman Landen Lucas, who scored a career-high seven points and tied a career high with five boards while playing 13 minutes in place of injured backup forward Tarik Black, agreed it was nice to win at TCU this time around.
"We started off with more energy and urgency than last year," Lucas said. "I'm glad we did. These are the kind of games you have to win if you want to go 10 straight (league titles)."
Of the TCU students' taunts, he said: "Going through pre-game you see all that. It helped us out a lot."
KU sophomore forward Ellis finished with a career-high 14 rebounds to go with his eight points.
"I thought he was the best he's been on the glass in a while. He played tough on the glass," Self said. "I told him, 'gosh, you missed some easy shots,' where he wasn't as tough (two of eight shooting; 4-4 from line). I'd sell out for that line from him every day. It's something we have to have from him to have a nice season."
Black out of action: KU senior forward Tarik Black, who sprained his right ankle against Baylor on Monday, had a setback at shoot-around Saturday and didn't play. He sat on the bench with a boot on his right foot.
"Tarik could not have played. He got it bumped today in shoot-around. It was too sore," Self said. "He's probably still a few days away. It's really sore. Hopefully he'll be ready to go by Wednesday (8 p.m., home game against Iowa State)."
Young guns: In the first half, KU had five freshmen on the court at the same time.
"I didn't even know that. I don't look at them as freshmen any more," Self said.
Wiggins and Wayne Selden played 18 minutes the first half, Joel Embiid 14 minutes, Brannen Greene, Conner Frankamp and Landen Lucas six and Frank Mason four.
This, that: KU scored its second-highest point total in a half this season (53) in the first 20 minutes. KU had 54 versus Duke. The 53 points marked the most points scored in a half against a conference opponent since scoring 57 points in the second half against Texas Tech in the first half of 2013 Big 12 Championship quarterfinals. ... The 53 first-half points marked the most on the road in a regular season conference game since scoring 53 at Baylor on Jan. 17, 2011. ... KU's 91 points are the most that TCU has surrendered this season and marks the first time the Jayhawks have had two 90-point outings on the road in conference play in the Bill Self era (90 at Oklahoma; 91 at TCU). ... Naadir Tharpe had four assists against no turnovers, his fifth game this season without committing a turnover. It also marked his only game of the season that he didn't score.