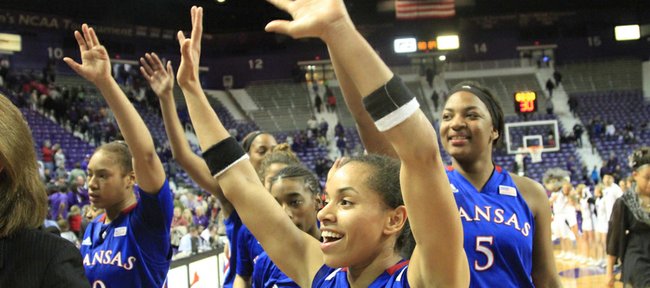 Even after playing back-to-back home games against top-10 opponents, Kansas University's women's basketball team isn't expecting anything easy today when it travels to Manhattan to face rival Kansas State — a team, like KU, with a losing record.
"They're not ranked in the top 10," Jayhawks junior point guard Natalie Knight said of the Wildcats, "but we know we're gonna get their best game, and we've gotta be ready to play, because it is a rivalry game and it's important to both KU and K-State. So it's a big game."
Kansas coach Bonnie Henrickson anticipates the Sunflower Showdown — which tips off at 1 p.m. at Bramlage Coliseum, and will be televised by Fox Sports Network — will be the type of game that is decided by who comes up with an extra possession, which team attacks aggressively and which side has the most balance and energy.
"It's a top rivalry, absolutely," Henrickson said. "And you can throw numbers out, you can throw records out, you can throw it all out. It is a 50-50 ball game."
Both rivals' lineups look different than in years past, with key players having graduated, but Henrickson sees a lot of similarities between this year's teams at Kansas (9-10 overall, 2-5 Big 12) and Kansas State ( 8-10, 2-5).
"They're a lot like us, because they have gotten better and better and better and better and better," the 10th-year KU coach said, "and I think we have, too."
The rival programs (both currently tied for seventh place in the Big 12) each recently knocked off one of the conference's top teams — KU beat Baylor, and K-State defeated Iowa State.
"It's a huge, huge opportunity for us," Henrickson said of today's game.
A product of the Sunflower State, Olathe South graduate Knight (9.0 points a game, 3.0 assists) typically looks forward to tangling with the Wildcats.
"It's always a big one for me," the KU point guard said. "I like the energy from both teams when we get to play in these games."
KU junior forward Chelsea Gardner, who leads the team in scoring (16.3 points a game), rebounding (7.8) and blocked shots (1.7), has six double-doubles this season, tops in the Big 12 . Gardner had 19 points and five rebounds last season in Manhattan, where the Jayhawks won, 89-80, in double overtime.
Freshman guard Leticia Romero leads K-State in points (14.2), rebounds (5.8), assists (4.4) and steals (1.8) per game. Romero was named the Big 12 Freshman of the Week for the week ending on Jan. 19.
A Free State High graduate, senior forward Chantay Caron (4.3 points, 2.1 rebounds) has played in 114 career games for the Wildcats and should start today against KU.
K-State leads the overall series, 62-44, but the Jayhawks swept the 2013 series, giving them two straight wins.
Henrickson's KU teams are 4-15 against the Wildcats and their 18-year coach, Deb Patterson.