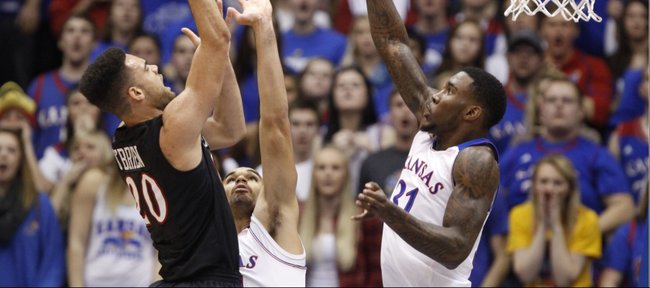 Whenever smart coaches talk to the public through the media, they often tailor their messages to specific targets, namely their players.
Sometimes it's easy to determine at which player Kansas University basketball coach Bill Self aims his message. At other times, he camouflages his delivery just enough to keep you guessing.
During his weekly press conference Thursday in the media room of Allen Fieldhouse, Self discussed what he does with his four-man, big-man rotation. First, he pointed out the way it usually works with the center position. Freshman Joel Embiid plays the first seven minutes or so, then gets relief from senior Tarik Black for six or seven minutes, then takes over again, provided he can stay out of foul trouble. Nothing to interpret there, just a Jack Webb-like statement of the facts.
Next, Self discussed how he uses his two sophomore power forwards — Perry Ellis, the more skilled, and Jamari Traylor, the more physical.
"Mari and Perry has been totally different," Self said, differentiating it from his center rotation. "(With) Mari and Perry it has been whoever's playing the best. There have been times where both of them have played well and one has been better than the other. The one we usually play is the one who's been playing better at that particular moment. Just like in the last two home games, Jamari's played better (in the first half), but in the second half, Mari didn't play much at all because Perry was so good. I think that's kind of nice to have. Whoever's got a hot hand, so to speak, we can run with it."
Interesting. He made it sound almost as if it's an equal job-share, which to this point has not been the case. Ellis averages 27.2 minutes, Traylor 15.
Even if not designed to do so, the coach saying something that creates the perception that he is equally comfortable with both options at power forward serves to motivate both players.
Think about it: How can it hurt Ellis to think that he has a legitimate challenger for minutes. Effort isn't a problem for Ellis. But he's such a perfectionist —ever met a high school valedictorian who did not meet that description? — that he's not as willing to try things as some because he's not sure it will work out. He might actually benefit from replacing a little caution with a daring moment or two during games. At times, he could play with a little more aggressiveness and greater confidence, considering the versatile forward's high level of talent.
From Traylor's perspective, it can't do anything but boost his growing confidence to be mentioned in the same breath as Ellis. Traylor, who didn't play high school basketball until his junior year and in his third year at Kansas, has done things this season he didn't show a year ago. He's driving to the hoop and finishing and even nailed a free-throw-line jumper in a recent game. Being mentioned with Ellis is a validation of all the hard work he has put in to developing offensive skills. Traylor has shot .727 from the field, .806 from the line. A year ago, he shot .429 from the field and .579 from the line. He still turns it over too often and doesn't have a wide array of post moves, but he has taken a huge leap forward and has played a big role in the power forward position, quietly producing at a high rate.