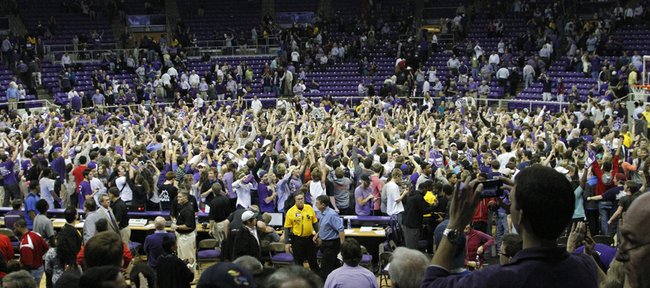 Kansas University's fifth-ranked basketball team trailed the Big 12's last-place squad, TCU, 20-6 with four minutes left in the first half of last year's head-scratcher of a game at sold-out Daniel-Meyer Coliseum.
Odds appeared slim the Jayhawks would even hit double figures by the 20-minute mark.
"With the talent level you guys (Jayhawks) had last season, obviously I'm not sure how that takes place," said KU senior power forward Tarik Black, who watched in amazement this week as KU coach Bill Self played excerpts from that 62-55 loss. Black, of course, was on Memphis' team last season and not a part of the freakish contest in Fort Worth.
The two teams play again at 8 tonight in TCU's campus coliseum.
"It was a crazy first half, a ridiculous first half," Black added of a half in which KU ultimately finished with 13 points to TCU's 22.
This happened against a TCU team that, in opening league play 0-8, had lost seven games by double figures. What's more, TCU entered the contest 0-20 in all-time matchups against top-five ranked teams, including an 0-5 mark at home. KU entered 7-1 in conference play.
"Obviously our defense wasn't that bad. You think you hold a team to 22 in a half, you'd be at least in the game," Self said, in recalling the bleak contest in which he made national news for saying "it's the worst team Kansas has ever put on the floor since Dr. Naismith was here. I think he had some bad teams when he lost to Topeka YMCA in his first couple years."
KU wasn't in the game, Self said, because "when you go 3-of-23 from the field and have 11 turnovers, that's just a poor, poor, poor half of basketball. They deserve credit because they caused it, but still, yes, we can play a lot better than that. It may be some motivation, but I don't know if it's going to be a determining factor if we're ready to play or not (tonight)."
Actually, as much as last year's TCU game has been rehashed since that Feb. 6 evening, it probably will serve as motivation for the eighth-ranked Jayhawks (14-4 overall, 5-0 Big 12) against the Horned Frogs (9-9, 0-6).
"We have to go down there and change things and do things differently or we'll have the same outcome," Black said. "This is an underrated TCU team."
TCU, which defeated Tulsa twice, Washington State and Mississippi State in a promising nonconference season, is 0-6 in Big 12 play after its 77-69 loss Wednesday at No. 25 Oklahoma
"In conference play they've played better than their record even though they could have won that game in Norman. What was it, a tie game with about six minutes left and a four-point game and they missed like three free throws in a row and they had a chance in the last two minutes?" Self said. "So that could have been a great road win for them, and we know OU can score easy. They (Frogs) are much better, good, sound defensively, and when they make shots, they're definitely a dangerous team. And Anderson is obviously having a very good year."
TCU junior point guard Kyan Anderson averages a team-leading 15.1 points per game with 87 assists (4.6 per game) and 27 steals. Junior forward Amric Fields averages 13.8 points and 5.5 rebounds. Senior guard Jarvis Ray averages 9.6 ppg and 4.0 rebounds.
Freshman guard Brandon Parrish averages 10.2 ppg with 24 threes. Freshman center Karviar Shepherd, who was recruited by KU, starts and averages 8.4 ppg and 7.6 boards with 2.1 blocks.
Obviously, KU doesn't want to stumble at TCU again this season. Up to half the arena figures to again be full of KU fans.
"I think our guys enjoy playing in front of energy," Self said. "We're spoiled here by our fans and what we play in front of every day, and then we go on the road and we play in front of a 90-percent-filled building or 95-percent-filled building, and we think, 'Dang, where is everybody?' and the home team is thinking, 'This is the best crowd we've had all year.' We have to be cautious about that (if it's not full). You've got a job to do, go do your job. The building will be full at TCU, I would think. Last year it was full (record crowd of 7,412).
"NCAA Tournament games, very rarely are they full. Unless you play in Kansas City, which was nice. But for the most part, these are the type of environments that are the environments you have to play well in to advance."
Tarik Black questionable: KU big man Black is listed as questionable for today's game. Black, who sprained his ankle in Monday's win over Baylor, practiced half-speed on Friday, Self indicated.
TCU notes: The Horned Frogs are coached by Trent Johnson, who is 20-30 in his second season at TCU and 246-215 in his 15th season overall. TCU is 5-4 at Daniel-Meyer Coliseum this season. TCU averages 66.1 points per game and allows 68.6. TCU is getting outrebounded by 5.3 boards per game, yet winning the turnover margin with a +1.7 average. The Horned Frogs force 6.1 steals per game. TCU's 71.9 free throw percentage is third in the league.
The series: KU leads the all-time series 5-1. KU beat TCU, 68-64, in a 1952 NCAA Midwest Regional game in Municipal Auditorium in Kansas City, Mo. ... Self is 9-4 all-time against TCU, including 3-1 while at KU. Johnson is 2-1 against KU, 1-1 while at TCU. In Self's first season at KU, Johnson's Stanford team defeated the Jayhawks, 64-58, on Dec. 6, 2003, in Anaheim, Calif., in the Wooden Classic.
Tisdale midseason list: KU's Joel Embiid and Andrew Wiggins have been named to the Wayman Tisdale Award Midseason List for the outstanding freshman of the year, the USBWA announced Friday. Others on the list: Tyler Ennis, Syracuse; Aaron Gordon, Arizona; Jordan Mickey, LSU; Jabari Parker, Duke; Julius Randle, Kentucky; Noah Vonleh, Indiana; and James Young, Kentucky. Last season, Kansas' Ben McLemore was named to the Wayman Tisdale Award Midseason List. McLemore was also a finalist for the award and was later named USBWA All-America Second Team.
More on Joel, pros: KU frosh Joel Embiid remains undecided on whether he'll take his talents to the NBA next season. He's projected as the No. 1 pick in the 2014 Draft by draftexpress.com and nbadraft.net and is Chad Ford's projected No. 1 on Ford's ESPN Big Board.
"When I see those guys (NBA centers), man, they're really big," Embiid told the Associated Press. "Things could change, but I love college. I'm having so much fun on campus, with my teammates. When we play, we have 16,000 people. It's crazy. It's not the same thing when you're in the league. So I don't know. We'll just have to see."
Quite a dunk: A picture of Embiid dunking on Oklahoma State's Marcus Smart appeared on Embiid's instagram page and was tweeted by the KU star. "Not very SMART to jump on that one" read the caption. Some have speculated that the photo figures to catch Smart's attention heading into KU's rematch against Oklahoma State on March 1 in Stillwater, Okla.