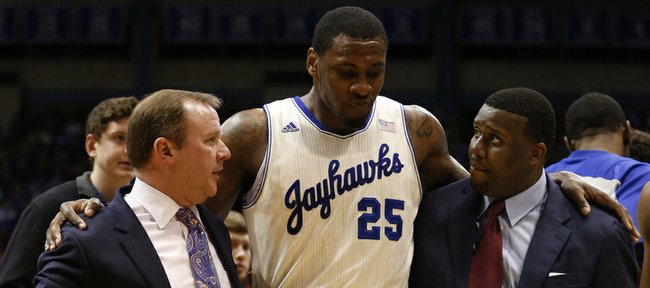 Silence gripped Allen Fieldhouse on Monday night as Kansas University senior forward Tarik Black sat on the floor, wincing in pain after spraining his right ankle in a 78-68 victory over Baylor.
There was hearty applause as Black walked to the locker room under his own power with 3:13 left to play. He has received plenty of well-wishes on campus ever since.
"I appreciate all the love," said the 6-foot-9, 260-pounder from Memphis, who was hurt when BU's Rico Gathers landed on Black's ankle in a scrum for a rebound.
"I got a message on Twitter saying, 'We pray for you and your ankle, your leg ... hoping you get better.' It's obviously been working because I'm here walking around now. I saw the replay of what happened. I know it could have been much worse so the prayers have worked. I'm blessed to be standing here right now. I'm progressing at a fast rate. I can't complain at all."
Black was able to practice in non-contact drills on Thursday and is expected to play in Saturday's 8 p.m. contest at TCU.
"It's really cool and one of the reasons I came here in the first place," Black said of the interest of fans about all matters involving KU hoops. "I felt the family atmosphere the first time I came here on my visit. I felt it was really caring, felt it was a trustworthy program. It started with the coach (Bill Self). It's how it is."
Black had two points and a rebound against Baylor after scoring eight points with two boards in last Saturday's win over Oklahoma State. He has been an effective big man off the bench for the Jayhawks (14-4, 5-0) since relinquishing his starting spot to Joel Embiid in KU's ninth game of the season.
"His minutes have been limited in large part because Joel has gotten better, but he's been much better in my opinion, I think everybody would agree, since Christmas," Self said. "He had 17 (points, six boards) against Georgetown coming off the bench ... (more) than what he was as a starter.
"When you've got two fouls with 17 minutes left in the first half most every game (when he started), it's hard to get in a flow. But now he gets two fouls and there's only 11 minutes left because he's coming off the bench, so maybe that makes him feel a little better. I like what he's given us off the bench: energy and toughness and rebounding."
Black said he'll do whatever he's asked to do.
"I'm blessed beyond measure to be out here playing for this program," he said. "I'll do anything to help this team win. That's my role on this team. That should be everyone's role. We are all here to help this team win."
Last year revisited: No. 5-ranked KU hit 29.5 percent of its shots in a 62-55 loss to TCU on Feb. 6, 2013, in Fort Worth, Texas. TCU was 0-8 in league play at the time.
"It is, without question, one of the strangest games that I've ever been a part of. And I've been a part of some strange games," Self said. KU had 13 points at halftime.
"I was reminded today by one of our coaches, saying, 'Bill, I don't know if you remember, that's the most ready to play we've been all year. Best practices, most intense warm-up, everybody focused and we came out and laid an egg.'"
That was the night Self uttered the quote: "It's the worst team Kansas has ever put on the floor since Dr. Naismith was here. I think he had some bad teams when he lost to Topeka YMCA in his first couple years."
"Honestly I didn't mean that in a negative way toward TCU. We had two teams whip us last year: TCU and Baylor. Everybody else was a one-possession game, of our other four losses," Self said.
KU wanted Karviar: KU recruited TCU freshman Karviar Shepherd, 6-10 from Dallas Prime Prep Academy, who is averaging 8.4 points and 7.6 boards.
"It's weird how things work out. We offered Karviar a scholarship, and we only had one to give, and if he'd have taken it, then we would have been out on Joel (Embiid)," Self said. "That's how recruiting works sometimes. You recruit a couple of guys, and the timing needs to be right. I think he's got a chance to be very, very good."
The rotation: "I told our guys yesterday, we're still a team that hasn't figured it out yet. If we've figured it out yet, then why are we playing 10 guys? You don't need to play 10 guys, or need to play nine guys," Self said. "You need a fifth guy to come through, and really when the fifth guy comes through, there's really no need to play a sixth, unless fouls or injuries dictate that you do so.
"One day seems like Conner (Frankamp) gives us a spark, another day it's Brannen (Greene) that gives us a spark. We haven't played our two bigs together much at all, but when they have played together limited minutes, they've played well. That's something else that we can maybe do."
Monitor talk: The officials went to the monitor twice in the Baylor game to check for flagrant fouls. None were discovered.
"The second time they only went to the monitor because I told them to, because they went to the monitor because he told them to," Self said of opposing coach Scott Drew. "I knew there was nothing. I just wanted to do it. Because that's how the game started. I think it slows the game up too much. We're going to the monitors, but it's not the officials' fault because the rules say to do that. I think we're going to the monitor way, way, way too much."
Academics: All KU players are eligible second semester: "Everybody took care of their business," Self said of grades. "I was pretty proud of how they did, especially (because) that was a bad travel first semester. We never miss school like that, especially leading right up into finals."
Luc's take: Minnesota Timberwolves forward Luc Richard Mbah a Moute discovered Joel Embiid at a camp in Cameroon when Embiid was 17. He was impressed and convinced Embiid's dad to send Joel to the U.S. to play high school ball.
"Those were moves that guys who had been playing for years were making," Mbah a Moute told the Wall Street Journal in a story published Thursday. "I think he could play in the NBA right now," Mbah a Moute added.