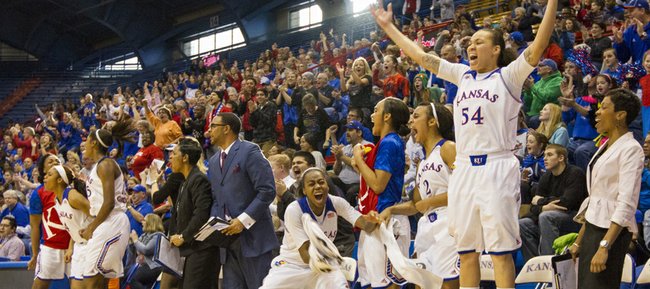 Two days after one of the biggest upsets in school history, the Kansas University women's basketball players and coaches still were talking about beating No. 7 Baylor.
To be fair, they were asked about it. A lot. And they certainly did not mind rehashing the day they came back from 11 down in the first half to win by 16 in the second, ending the Bears' 53-game Big 12 Conference winning streak. But the Jayhawks' focus had shifted to tonight's almost-as-tough matchup against No. 8 Oklahoma State, at 7 p.m. at Allen Fieldhouse.
"That's great," KU coach Bonnie Henrickson said of the team's victory over Baylor. "But, my thought for the day would be, 'If what you did yesterday still looks good today, you haven't done much today.' We gotta keep moving. What we can take from that is confidence, not complacency."
In Oklahoma State (16-1 overall, 5-1 Big 12), Kansas (9-9, 2-4) welcomes a second consecutive team with a standout point guard.
OSU floor leader Tiffany Bias and Baylor's Odyssey Sims are not the same players in terms of style, but both are the focal points for KU's defense.
"She's different in that they've got some experienced players around (her)," Henrickson said of Bias, a 5-foot-6 senior who is three assists shy of 700 for her career and five points shy of 1,400 career points.
Added KU junior Natalie Knight of facing Bias and Sims in back-to-back games: "They both are excellent point guards. Tiffany likes to push the ball more in transition. Again, for both of them, it's a team defense. We're all gonna have to guard her, not just one person."
Despite being swept by the Cowgirls last season and having lost three consecutive games in the series, KU owns a 31-27 all-time advantage over Oklahoma State. Kansas has a 13-11 edge in Allen Fieldhouse and is 9-6 against OSU under Henrickson.