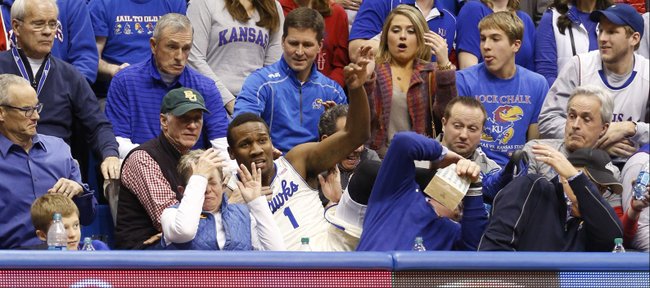 Like thousands of Kansas University basketball fans, coach Bill Self has reviewed the clip of Wayne Selden's all-out hustle play against Baylor several times.
He's given a thumbs-up to film of his freshman guard jumping over the northeast press table into the Allen Fieldhouse stands while delivering a pass to Joel Embiid for a bucket in the second half of Monday's 78-68 victory over the Bears.
"I didn't realize it was that great a play watching it live because I was kind of blocked out," Self said Tuesday on his weekly "Hawk Talk" radio show. "Wayne really went after that ball. To dive over that scorer's table and get right back in the play ... that was pretty cool.
"Wayne hadn't played as well the last two games (16 points with 10 assists to six turnovers against Oklahoma State and Iowa State) as he had before," Self added. "I don't think anybody could have maintained the level he was playing at before. He was playing as well as anybody in the league the first couple games in the league."
Selden, a 6-5 combo guard from Roxbury, Mass., scored 24 points in the Big 12 opener against Oklahoma and 20 in the next game, against Kansas State. He scored seven points with two assists and three turnovers versus Baylor.
"He means so much to us. He gives us an air of toughness. Certainly when he's going after the ball like that, we become a much better team because it's contagious," Self said.
White update: A "Hawk Talk" caller asked if KU sophomore wing Andrew White III was in the coach's "doghouse" or injured.
White, 6-6, 210 from Richmond, Va., has played three minutes in the last nine games since suffering a hip pointer at practice.
"I don't know if he's 100 percent (healed) but he's close enough. He is practicing every day," Self said. "He's never been in the doghouse. He's a fabulous kid. It's hard to play everybody.
"One of the advantages of depth is you have guys, through injuries and foul problems and things like that, you can play and hopefully not take a big step backward. One of the disadvantages is, if everybody is healthy, not everybody plays. He has kind of fallen in that group where he's odd man out on the perimeter just like Landen (Lucas, two minutes last seven games) is odd man out on the interior.
"Both of them have worked hard and both of them deserve to play. I don't know if they deserve to play over guys we're trying to play. We're only really playing four perimeter guys (Naadir Tharpe, Wayne Selden, Andrew Wiggins, Frank Mason) and filling in with Brannen (Greene) and Conner (Frankamp). He (White) was probably ahead of those guys a month ago. Since then and when he got hurt, he lost a little bit and those guys put themselves in a position maybe to have the opportunity to get in first. He'll keep a great attitude and keep working hard. He's a great teammate, a great kid, period," Self said.
Star of the game: KU freshman backup point guard Frank Mason scored nine points off 4-of-5 shooting with six assists against one turnover against Baylor.
"Frank was the best player we had yesterday," Self said. "He did more sound things, was aggressive, broke the defense down, didn't play timid. I thought he played very, very well."
Honors: KU junior point guard Naadir Tharpe on Tuesday was named Oscar Robertson National Player of the Week by the U.S. Basketball Writers Association. He averaged 22 points, five assists and four rebounds in wins over Iowa State and Oklahoma State. Also, forward Joel Embiid was named Wayman Tisdale National Freshman of the Week. Embiid, a 7-foot center from Cameroon, averaged 14.5 points, 10 rebounds in those two games.
What was that loud noise in Section 14 on Monday night?: "The back of a bleacher broke in Section 14. Nobody was hurt," KU associate AD Jim Marchiony said. "It happens every once in a great while." He said KU officials checked out the area and deemed there was no danger of further problems during the game and any repairs would be made as needed this week.
Two games up: Texas' win over Kansas State on Tuesday means four teams in the league now have two losses. KU is 5-0, followed by Texas and Kansas State (4-2) and Oklahoma State and Oklahoma (3-2).
"We've played five (games) out of 18. That's like the top of the third (inning)," Self said, comparing the marathon basketball season to a baseball game.