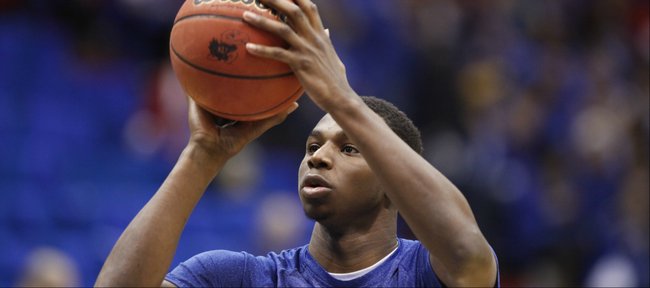 Andrew Wiggins inspires a wide range of opinions about the way he plays basketball.
Why? So much talent, yet so much room for growth. Advertised so loudly by so many in what amounted to an arms race of superlatives.
Expectations mushroomed when Wiggins was featured by national magazines — ranging in emphasis from sports (Sports Illustrated, ESPN) to fashion (GQ) — newspapers and websites.
He didn't ask for that, but when coach Bill Self told him the exposure would be good for the program, he obliged.
Anyone disappointed in Wiggins should remember he's not the one who said he was the greatest thing since the invention of the Reese's peanut butter cup, which he's not. Nobody is.
In the aftermath of Monday's 10-point victory vs. Baylor, Self offered his most unguarded assessment to date of Wiggins.
"I think he's done well," Self said. "I think that there's another step he could take. He leaves me wanting more, so when people say certain things, I can't be upset they're saying them because he leaves me wanting more too."
Self knows there is so much more in that long, 6-foot-8 body that moves so quickly, especially close to the hoop, when it looks as if he's been shot out of a cannon.
Self's next words put a road block to any thoughts that by "wanting more," he solely meant more effort.
"I also think this: He's also playing on the perimeter, he's playing guard," Self said. "He's never played guard before. There are so many things going into it that have allowed him probably to be not as comfortable as what a lot of people would expect him to be immediately."
That helps to explain why his handle lacks polish, which is why he doesn't drive to the hoop as often as someone with his insane quickness should.
His guards skills are young and so too is Wiggins, 18. Physically, he's on the slender side. Emotionally, he seems so well-grounded, his eyes and memory unpolluted by the sort of experiences others endure that can make them grow up too quickly.
"I think he's so naive in so many ways," Self said. "I don't know that he thinks about that he's everybody's Super Bowl when they get a chance to play against him. I don't know if he feels that. We tell him that, but I don't know if he feels that yet. ... I do think there's another step he can take."
He will, and since Wiggins has such a long stride, when he does take that next step, complaints about the team's leading scorer and best perimeter defender should fade to an inaudible whisper.