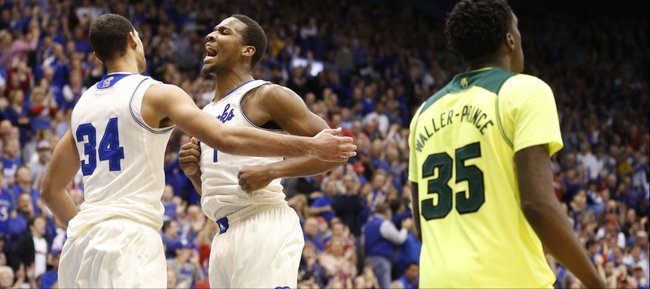 Photo Gallery
Kansas basketball v. Baylor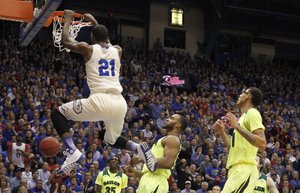 Images from Monday night's game between the Jayhawks and Bears at Allen Fieldhouse.
Podcast episode
Kansas coach Bill Self liked aspects of what he saw out of his Jayhawks in a 78-68 home win over Baylor. And he addressed Andrew Wiggins living up to the so-called hype.
Podcast episode
Perry Ellis, Wayne Selden and Andrew Wiggins talk with the media following a 78-68 Kansas home win against Baylor.
The Keegan Ratings
Kansas 78, Baylor 68
For the first time in a long time, a college basketball team has rattled off four consecutive regular-season victories against ranked squads.
Kansas University's gritty, No. 8-rated Jayhawks, who entered the latest edition of Big Monday having beaten No. 25 Kansas State, No. 8 Iowa State and No. 9 Oklahoma State on successive game nights, bounced No. 24 Baylor, 78-68, to complete the string in Allen Fieldhouse.
KU, which received 18 points from Perry Ellis, 17 points and seven rebounds from Andrew Wiggins, 12 points from Joel Embiid, plus nine points and six assists from Frank Mason — not to mention one of the great hustle plays of all-time from Wayne Selden — became the first team since 1996-97 North Carolina to take four straight against AP top 25 teams.
The string can't continue since KU's next foe is against unrated TCU — tip is 8 p.m., Saturday, in Fort Worth.
Wiggins, who scored 11 points the second half — Ellis had 16 points after the two received some halftime inspiration from coach Bill Self — was asked if it was tough to play so many top-notch teams in a row.
"Not really," Wiggins said. "We love the game, so basketball never gets old. It's what we want to do in the future and do now. We might as well get used to playing good teams all the time."
Said Self: "It's a nice accomplishment, but it doesn't really mean anything. It's the way the schedule fell."
This one was close, with the outcome in doubt with KU up, 43-42, five minutes into the final half.
KU then went on a back-breaking, 17-4 run that put the game away, 60-46, at 7:55.
Naadir Tharpe opened the surge with a three, then Ellis hit a jumper and stepped in front of a Baylor pass to complete a layup and ensuing foul shot.
"I tried to hurry out there as quick as I can and get the deflection," Ellis said of the steal and bucket and foul shot that gave KU a 51-44 advantage. "The first half ... I wasn't being that aggressive. Coach let us know, me and Andrew, and we tried to pick it up," Ellis added.
What followed the Ellis 'and-one' was a bucket by Embiid that was far from conventional. Selden chased a loose ball and as he was sailing into the northeast bleachers over the press table, he threw a pass that connected with Embiid, who hit a short jumper to give KU a 53-44 lead at 11:08.
Ellis had two points and Tharpe three more to go with two Selden free throws to complete the 17-4 run.
Of his talking-to at halftime, Wiggins said: "Coach told me to be aggressive, do what I do best, which is attack the rim, try to grab rebounds, get more involved."
Asked about speaking with Ellis and Wiggins, Self said: "I do all the time. It's becoming too common. Without question we tried to get them fired up at halftime."
KU had a late scare when Tarik Black went down with a sprained ankle with 3:13 left. He left for the locker room, but returned to the bench with a minute left.
"He turned his ankle. I didn't know you could hurt him. He should be fine," Self said.
Black said he told trainer Bill Cowgill he could have returned to the game.
"I got taped back up and went back out there. It was painful at first, but it's fine," Black said. "I wanted to get  back in the game if the team needed me."
The Jayhawks (14-4, 5-0) will be able to rest up a bit before Saturday's game at TCU.
"I think we're a tired team," Self said. "Five games in 12 days against good competition ... I think we're a little fatigued."
• Wiggins' parents, his brother, Nick, and some members of Wichita State's basketball team attended. Nick, plays for WSU.
"It's always a joy when your parents are there. Mom, dad, my brother, he brought friends too, brought the (WSU) team," Wiggins said with a smile.