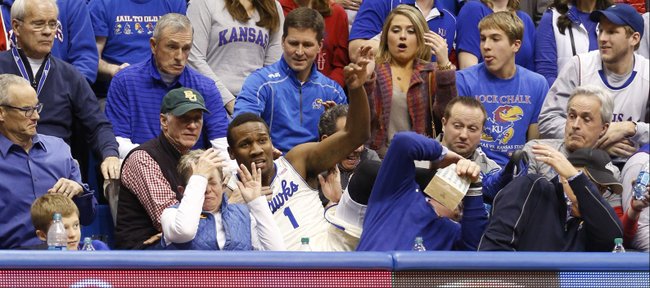 Photo Gallery
Kansas basketball v. Baylor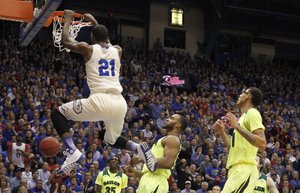 Images from Monday night's game between the Jayhawks and Bears at Allen Fieldhouse.
Podcast episode
Kansas coach Bill Self liked aspects of what he saw out of his Jayhawks in a 78-68 home win over Baylor. And he addressed Andrew Wiggins living up to the so-called hype.
Podcast episode
Perry Ellis, Wayne Selden and Andrew Wiggins talk with the media following a 78-68 Kansas home win against Baylor.
The Keegan Ratings
Kansas 78, Baylor 68
The scoreboard isn't always the best indicator of which team will win a game, a series, a championship.
Sometimes, something extraordinary happens and everything that takes place after it becomes meaningless because the outcome had been determined. Kirk Gibson hobbled to the plate and hammered Dennis Eckersley's back-door slider over the fence to end Game 1, and in essence, the 1988 World Series. Six years ago, Mario Chalmers hit the three to force overtime in San Antonio, but the clutch shot turned the extra five-minute period into a mere formality.
One of those moments that qualifies as an exception to Yogi Berra's most famous quote came out of nowhere Monday night in Allen Fieldhouse, where things weren't all that smooth for the home team in the early going.
Midway through the second half, the game already had started to go the way of Kansas University against Baylor, thanks to Perry Ellis quickly turning a two-point lead into a seven-point one. That's when one of the harder-working Jayhawks decided to fly outside the boundaries of the 50-foot wide James Naismith Court to take matters into his own hands and somebody else's seat.
Wayne Selden, a 6-foot-5, 230-pound freshman guard from Roxbury, Mass., saw the ball flying out of bounds and ran after it. Thinking quickly, he went in the air, and as he was starting to spin around, he whipped a perfect pass to Joel Embiid for a bucket. Selden landed in the laps of two Baylor fans, seated in the first row of bleachers, a row behind the court-side chairs that press up against the scorer's table extended.
Even the nearby referee was caught off guard and didn't think to check whether Selden's foot was in bounds when he went into the air. Pictures revealed it was not, but an opponent expressed the belief that such a detail was beside the point.
"That was a great play by him to even get it," Bears guard Brady Heslip said. "You're saying he was out of bounds when he touched it? Maybe he deserved it because that was great hustle."
If the play had been called correctly, it would have taken two points of a 78-68 victory away from Kansas, but it wouldn't have taken any thunder out of the ovation the customary 16,300 showered on Selden.
It was the signature play of KU's fourth victory against a Top 25 opponent in four games, the longest such streak since North Carolina did the same in 1997. And it's no surprise that it came from Selden.
"He's making great hustle plays like that all the time," teammate Perry Ellis said.
Well, maybe not like that, but he does make a lot of them.
The Kansas stat crew charts miscellaneous numbers, including hustle plays called "floor burns." Selden leads the team with 27, three ahead of Embiid, a 7-foot hustler.
How, Selden was asked, did he see Embiid?
"Just the eyes in the back of my head," he deadpanned. "No. I didn't see him. I just went for the ball and just threw it back in there. I didn't know who would get it."
Selden said he had not ended up with the spectators, "since high school, a while ago."
Said KU coach Bill Self: "Great hustle play. I thought the ball was off them and I was thinking, 'What is he doing?' But it ended up being a great hustle play, no question."
As Self was sitting at a table saying those words into a microphone, his eyes were trained on a TV on a distant wall, watching a replay of the great Selden save.
"Ooh, it may have been out of bounds," Self said. "Well, from this angle it looked good to me."
No it didn't, but it didn't matter. It's the sort of play that inspires a team regardless of whether it shows up on the scoreboard.
"I think our guys have showed some toughness and definitely have played better the last five games than we have in a five-game stretch all year," Self said.
Nobody has shown more toughness than Selden.