Document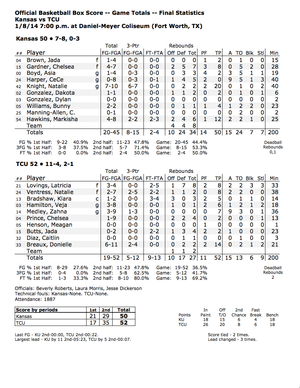 Fort Worth, Texas — Talk about a bad time to go cold.
After having led for most of the night and building a game-high lead of 11 points, Kansas University's women's basketball team iced over, going scoreless for nearly 51⁄2 minutes in a 52-50 loss to Texas Christian on Wednesday.
Chelsea Gardner's jumper with 5:23 left gave the Jayhawks (7-8 overall, 0-3 Big 12) a 47-36 lead with 5:23 to play.
Then the polar vortex hit.
KU missed free throws (two), jumpers (two) and layups (two) and had two turnovers as the Horned Frogs (11-4, 2-1) surged. They scored the next 16 points, a run that ended only with Markisha Hawkins' three-pointer at the final buzzer.
And the Jayhawks' losing streak hit three games.
"We were up 11, and we played not to lose," KU coach Bonnie Henrickson said. "From an aggressive standpoint, we didn't attack. We stopped doing what got us the 11-point lead, and then they turned around and attacked us and scored in transition. I'm really disappointed at how passive we became.
"I called the timeout when Chelsea Gardner hit the jumper because I thought that would give us a little bit of gas, but we just got nothing. We didn't attack anymore, and that is disappointing."
Junior guard Natalie Knight had a season-high 20 points for KU, and Hawkins added 12 off the bench.
Donielle Breaux was the only Frog in double figures, with 14 points, but eight of the 10 TCU players who checked in, scored.
Kansas outshot TCU, 44.4 percent to 36.5. KU also had eight three-pointers to TCU's five. But Texas Christian outscored Kansas by seven (9-2) at the free-throw line, and KU had 24 turnovers to the Frogs' 13. KU attempted just four free throws.
"Those type of comebacks don't come around very often," TCU coach Jeff Mittle said. "You have to put yourself in position and believe you can make those type of comebacks.
KU will host Texas Tech at 7 p.m. Saturday.