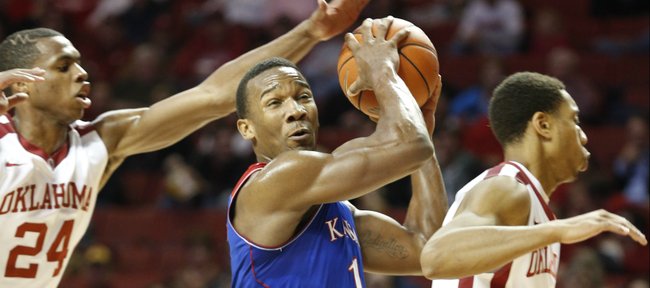 Photo Gallery
Kansas basketball v. Oklahoma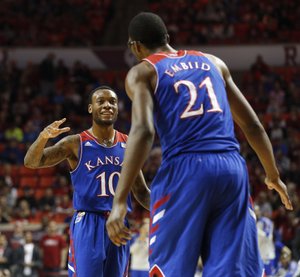 Images from Wednesday night's game against Oklahoma in Norman.
Podcast episode
Bill Self talks Wayne Selden and his technical foul after 90-83 win over Oklahoma.
Podcast episode
Perry Ellis, Wayne Selden, Naadir Tharpe talk after 90-83 victory at Oklahoma.
KANSAS 90, OKLAHOMA 83
Norman, Okla. — Oklahoma senior Cameron Clark did all he could to help his Sooners hang with 18th-ranked Kansas on Wednesday night at Lloyd Noble Center.
But despite tying a career-high with 32 points on 10-of-18 shooting, Clark and his teammates walked away with a 90-83 loss.
It marked the second time this season that Clark had topped the 30-point mark in a losing effort — he also scored 32 in a loss against top-ranked Michigan State in November — and after the game the veteran forward from Sherman, Texas, talked about the mixed emotions that came after a good individual night and another loss for his team.
"It's very frustrating," Clark said. "We just have to go back to the drawing board, and it all starts with defense. Defense wins games, and we just need to come together as a group and figure out what it is we're not doing down there."
Defensively, the Sooners (12-3 overall, 1-1 Big 12) allowed Kansas (10-4, 1-0) to reach 90 points for just the third time this season. Kansas shot 55 percent from the floor — 64 percent in the first half — and also knocked in eight of 16 three-point attempts and 24 of 30 free throw tries while scoring 50 points in the first half.
"I'm not pleased with what we did defensively," said OU coach and native Kansan Lon Krueger. "But I'm not gonna take anything away from what Kansas did either. They made good plays."
No one fit that description better than freshman guard Wayne Selden, who exploded for a career-best 24 points on 9-of-17 shooting. Selden hit five of 10 three-point attempts and scored 15 points in the game's first nine minutes.
"We focused on their size inside and I think that took away from some activity that we hoped to have on the perimeter," said Kruger when asked about Selden's big night. "He's a good player. A guy gets into a rhythm like he did early, he really hadn't done that a lot. But he's a good player, and any time good players line up you expect them to play well and he did."
Somewhat surprisingly, OU was able to limit the two players many consider to be KU's best. Andrew Wiggins tallied just nine points on 2-of-9 shooting and Joel Embiid six, on four shot attempts.
"It doesn't make us feel any better that they didn't have good statistical games," Kruger said. "It doesn't change our feelings at all. They've got other good players, as well, and they played a good game."
Despite KU's hot shooting in the first half, OU snagged a 43-39 lead after draining four consecutive free throws following a technical foul issued to KU coach Bill Self. Kansas responded to the Sooners' mini-spurt with an 11-1 run to close the half and pushed its lead to as many as 11 by the 16:26 mark of the second half.
"Big swing right there," Kruger said. "And it was a momentum swing as much as anything. It kind of picked them up and knocked us down."