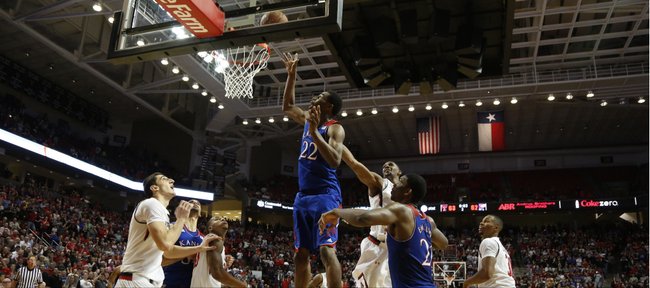 Kansas University basketball coach Bill Self had a good feeling about what was about to transpire as he huddled with his players with 12 seconds left in Tuesday's 64-63 victory at Texas Tech.
"The guys were fine. I think they are confident in those situations," Self said, referring to needing to score on the game's final possession to overcome a 63-62 deficit and pull out a huge road win.
"The demeanor was good. I think everyone felt comfortable with what we were trying to do. Certainly, we were fortunate, but it worked out well," Self added.
What happened, of course, is forward Perry Ellis flipped a pass to center Joel Embiid, who drove the baseline, but had the ball poked away with four ticks left. Andrew Wiggins retrieved the ball in the lane and dropped in a one-footer with 1.7 seconds left for the winner.
"Very rarely do you ever choreograph a play where it works out perfectly in a situation like that," Self said Wednesday on his weekly Hawk Talk radio show. "What you have to do is have your best players step up and make plays and that's what happened."
Self's version of the play goes something like this: "Perry threw the ball to Jo. Jo did the right thing trying to score, but he fumbled it. Andrew was 'Johnny on the Spot' there," Self said.
Wiggins after the game told Self, then related to reporters, that it was the first time since he'd started playing basketball that he'd hit a buzzer-beater for the win.
"I started thinking about that. The kid is a freshman. His high school team (Huntington Prep in West Virginia) was so talented and so good I bet they didn't play three close games a year," Self said. "When you stop and think, he hadn't been put in any situations like that ever. I bet he hadn't shot the ball at game point with a chance to win maybe but once or twice in his life. Even though it was not a long shot ... he said he's made several to tie, but not win, so I thought that was pretty neat."
Self likes the way Wiggins drove the ball to the basket all night en route to 19 points off 6-of-11 shooting. He hit six of eight free throws and played 35 minutes.
"When Perry had that great game against TCU (32 points last Saturday), he was by far the best player on the floor," Self said. "It was his day. But when it's 'nobody's day' that's when guys have got to step up and make plays. To me, last night was nobody's day. Andrew just drove the ball and created opportunities for us through rotation rebounding, and things like that were very key."
Lots of minutes: Embiid, who had been held out of a week of basketball because of knee and back aches and pains, scored 18 points and grabbed eight rebounds while playing 32 minutes at Tech. Self had been planning on using Embiid about 25 minutes.
"The game was so slow. There weren't as many possessions," Self said. "There were so many stoppages. It's probably my fault we didn't play our bench the second half. Nobody was tired. We weren't playing out of foul trouble with the exception of Perry. There were so many stoppages, guys didn't get winded near as much."
The only two bench players used the second half were Jamari Traylor and Tarik Black at nine and five minutes respectively.
Clinching at home?: Wins against Texas on Saturday and Oklahoma on Monday would assure KU at least a tie for its 10th straight Big 12 title. KU, 11-2 in the league, will play Texas (9-4) at 6:30 p.m. Saturday, and Oklahoma (8-5) at 8 p.m. Monday, both in Allen Fieldhouse. Texas lost to Iowa State on Tuesday in Ames.
"I was hoping if we could get two games this week it would be a great week regardless of how anybody else did," Self said. "That's still the only way it'll be a great week, if we play well Saturday. It certainly didn't hurt anyone's feelings from our standpoint that Iowa State was able to beat Texas. Texas played well."