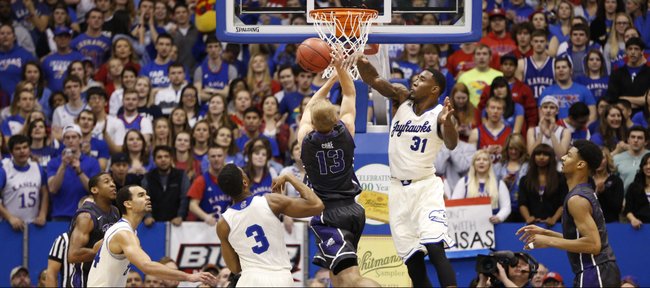 Photo Gallery
Kansas basketball v. TCU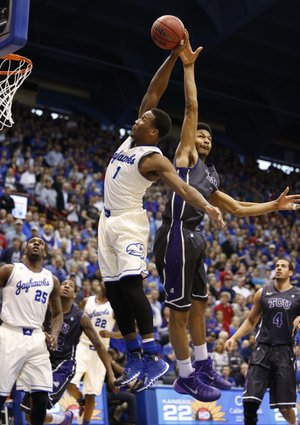 Images from Saturday's game between the Jayhawks and Horned Frogs at Allen Fieldhouse.
Podcast episode
Kansas coach Bill Self talked about Perry Ellis's 32-point afternoon, as well as KU's improved defense in the second half and the fact that Joel Embiid will play on Tuesday at Texas Tech.
Podcast episode
Perry Ellis, Wayne Selden and Andrew Wiggins discussed the Jayhawks' second-half recovery and Ellis's monster game following KU's home win over TCU.
KEEGAN RATINGS
KANSAS 95, TCU 65
Membership on a team, any team, is a privilege, not a right. Jamari Traylor, Kansas University's third-year sophomore reserve forward, did something to have that privilege revoked for a game that his teammates lost without him.
Traylor got off to a lousy start Saturday in a 95-65 victory against TCU, his first game out of the penalty box. He said he and the guards didn't communicate well on how to guard screens and that his coach, Bill Self, happened to notice.
"He let me know on the court and off the court," Traylor said in a way that left little doubt as to the coach's tone.
Traylor shook off the slow start and put together one of his better games in a Kansas uniform. Decidedly stronger and quicker than most of TCU's inside players, Traylor used those advantages to score a career-high 10 points to go with eight rebounds and a blocked shot.
He worked like a man trying to get out of debt to those with whom he is close. There is a reason for that. He owed his teammates.
Traylor's defense could have come in handy in a Monday's overtime loss at Kansas State, which at times attacked the basket with an ease that rivaled a layup drill.
"I at least would have tried to foul somebody," Traylor said of how he could have helped slow down the procession to the hoop.
The only replays in sports are those on TV. Kansas had its shot at Kansas State and didn't get it done. Traylor is left to think about woulda, coulda, shoulda, never a pleasant place for the mind to drift.
"It was definitely a physical game with K-State, and I think if I was out there we would have had a better chance to win," Traylor said. "I definitely let my team down and everybody down."
Traylor said whatever it was he did to draw the one-game benching "is between me and coach."
Traylor also said if he had been in charge of meting out the punishment, he would have reached a different decision.
"If it was up to me, I wouldn't want to have to sit out," Traylor said, before adding the obvious. "But it's not up to me."
Self met with Traylor in what amounted to a reinstatement hearing, similar to the one I had to steer through when I had received an excessive number of speeding tickets in a short period of time decades ago, when speed limits were unnaturally low, police officers unusually zealous and the entire world in general was 100 percent against me.
"We just came to a mutual understanding that I wasn't going to get in the way of this team, I wasn't going to harm this team," Traylor said. "So I pretty much am not going to screw up anymore."
Watching was the hardest part for Traylor.
"As a player, you see plays where you're like 'Oh, I could have got that,' or stuff like that," he said. "I know I could have helped the team. And it just hurt me knowing I let everybody down."
Self said Traylor "obviously was disappointed that he didn't play this past Monday. That's over with. When something is taken away, I think guys probably appreciate it a little more when they get out there, especially that next time." 
College is all about learning, which includes tough lessons.
"Coach has always got my back and everything," Traylor said. "I still feel like things didn't go the best my way, but I understand why he was mad at me. At the end of the day, it's a learning experience. I got better from it."