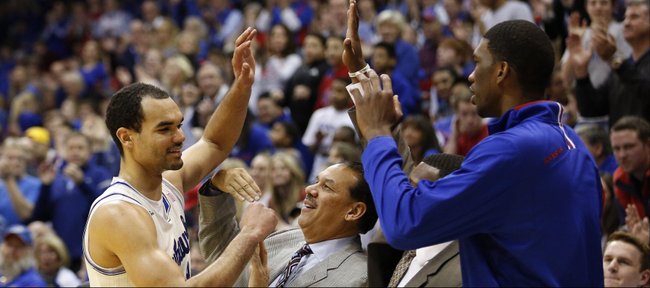 Photo Gallery
Kansas basketball v. TCU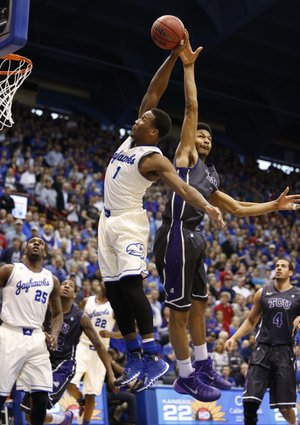 Images from Saturday's game between the Jayhawks and Horned Frogs at Allen Fieldhouse.
Podcast episode
Kansas coach Bill Self talked about Perry Ellis's 32-point afternoon, as well as KU's improved defense in the second half and the fact that Joel Embiid will play on Tuesday at Texas Tech.
Podcast episode
Perry Ellis, Wayne Selden and Andrew Wiggins discussed the Jayhawks' second-half recovery and Ellis's monster game following KU's home win over TCU.
KEEGAN RATINGS
KANSAS 95, TCU 65
Brandon Rush of the NBA's Utah Jazz walked out of Allen Fieldhouse on Saturday singing the praises of one of Kansas University's future pro players.
The person receiving the plaudits wasn't freshman Andrew Wiggins, who scored 17 points in the Jayhawks' 95-65 victory over TCU. 
It wasn't frosh Wayne Selden, who had 15 points, four assists, four rebounds and three steals.
And it wasn't first-year center Joel Embiid, who missed the game because of nagging back and knee aches and pains.
It was ever-consistent Wichita sophomore Perry Ellis, who scored a career-high 32 points, grabbed eight rebounds and dished a career-best five assists in 31 minutes. He scored the most points by a KU sophomore since Julian Wright's 33 against Missouri on February 10, 2007, in Columbia, Mo.
"He's smooth," Rush said after visiting with KU's coaches and players in the locker room. "He plays at his own pace. He can definitely score that ball. I've been watching him all season. The way he's playing doesn't surprise me."
Six-year NBA veteran Rush, who has returned to his hometown of Kansas City, Mo., for the NBA All-Star break, watched the 6-foot-8 Ellis hit 13 of 15 shots, including two threes in as many tries. 
Ellis also went 4-of-4 from the foul line on a day he erupted for 21 second-half points.
"He can definitely play in the NBA," Rush, a starter on KU's 2008 NCAA title team, said. "I like his game because he can stretch the floor. He can put it on the ground. With his skill set, he can score against big guys.
"He was making all types of plays out there — scoring, rebounding, passing. He was playing the game he wanted to. He should look to score whenever he touches the floor," Rush added.
Ellis, who lobbed to Wiggins for a first-half slam, scored 11 points (as did Wiggins and Selden) in the initial half as KU led just 47-40 at the break. He went 8-for-8 from the field the final half as KU (19-6, 10-2) outscored the (9-15, 0-12) Horned Frogs, 48-25.
"Perry was great," said KU coach Bill Self. "He stretched it, took the ball strong to the hole. I think one of his two misses he got back and put in. Even more importantly, he made a couple great passes."
Of his two threes, Self said: "Hopefully that's a weapon we have. I don't think he'll shoot a ton of them, but if he's open he can shoot it. He's definitely capable of making that shot."
Ellis, who is now five of 11 from three on the year, said the treys, "felt comfortable. I always try to shoot threes and mid-range (at practice), try to score from every spot on the floor. The key is practice. I have to keep competing in practice and good things happen."
A big smile broke out on Ellis' face when he left the game late to chants of "Perry, Perry," from KU's student section.
"It felt good. It was great fan support," Ellis said. "I'm just trying to go out there and play my best. That's all I can do."
Self said it's comforting to be able to count on Ellis' offensive productivity.
"Perry for the most part will get his in some way, shape or form," Self said of the player who averages 14.0 points a game. "We'd love for him to continue to build off this and be effective offensively. The thing is ... what's going to keep us from having a great year is on the other end (defense), though. We all have got to get better and Perry is definitely one of that bunch. He has to get better on that end."
KU was torched during the first half by TCU sophomore Kyan Anderson, who scored 21 points off 7-of-8 shooting. Anderson finished with 25 points after taking and making just one shot the final half.
"The adjustments we made defensively the second half to guard him were not major things," Self said. "Just try a little harder and hedge ball screens a little better. He was really good. He made some hard plays the first half. We helped him because we weren't turned up."
Jamari Traylor contributed a career-high 10 points with eight boards, one off his career-best mark. Foul-plagued Tarik Black had seven points in nine minutes, while starting point guard Naadir Tharpe didn't score on a day he had four assists, one turnover, in 20 minutes.
TCU wound up hitting 46.3 percent of its shots to KU's 61.5. The Frogs hit five of 10 threes; KU five of 19.
Self referred to former KU standout Rush when summarizing KU's play.
"I told our guys Brandon is the best defensive player we've had since I've been here," KU's 11th-year coach said. "Withey (Jeff, New Orleans Pelicans, who also attended) got a lot of attention because he blocked shots, but Brandon is the best defensive player we've had. He didn't know how to spell it when he first got here. 
"Brandon is a man of about as many words as Perry is," Self continued. "I asked him how we guarded. He said, 'Not great.' That was about it. Very profound," Self added, smiling.
KU will next travel to Texas Tech on Tuesday for a 7 p.m. tip.