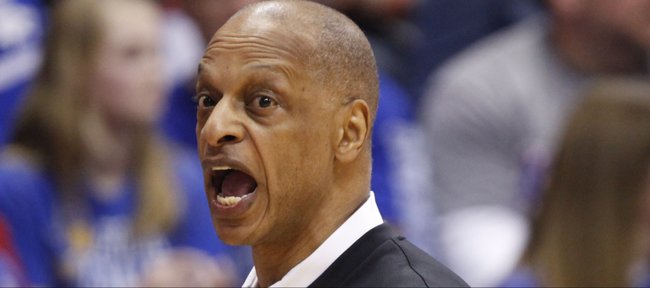 Photo Gallery
Kansas basketball v. TCU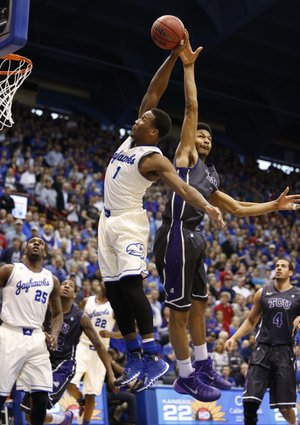 Images from Saturday's game between the Jayhawks and Horned Frogs at Allen Fieldhouse.
Podcast episode
Kansas coach Bill Self talked about Perry Ellis's 32-point afternoon, as well as KU's improved defense in the second half and the fact that Joel Embiid will play on Tuesday at Texas Tech.
Podcast episode
Perry Ellis, Wayne Selden and Andrew Wiggins discussed the Jayhawks' second-half recovery and Ellis's monster game following KU's home win over TCU.
KEEGAN RATINGS
KANSAS 95, TCU 65
The reality of it was, TCU basketball coach Trent Johnson was not all that upset with his team after a 95-65 loss to No. 7 Kansas University on Saturday afternoon at Allen Fieldhouse.
Not that you'd know that from listening to a few of Johnson's post-game soundbites following the loss.
After first talking about how proud he was of the effort his overmatched players gave and how impressed he was by the way the Horned Frogs played tough for a half and trailed just 47-40 at halftime, Johnson put a dark twist rooted in dry humor on an otherwise pleasant five minutes with the media before he left the room.
"Appreciate it," Johnson said. "It's nice being in Lawrence. Hopefully I'll be able to come back next year, if I don't kill myself in the meantime."
If not for such heavy words, one might have thought Johnson was OK with the state of TCU basketball, which fell to 9-15 overall, and, more painfully, 0-12 in Big 12 play on Saturday. He's not. And it stings. But he also knows there is not a whole lot he or his injury-riddled team can do about it this season. So he mixes in metaphors and one-liners that take the focus off of the basketball ever so slightly.
"My guys play for an idiot, who's really competitive," Johnson joked. "I'm not sure how bright he is."
Then, getting back to basketball, Johnson equated TCU's task of trying to play with a Kansas team that is full of future pros to boxing.
"I'm all about respecting tradition," he said. "But this is still a basketball game. It's not a boxing match. If you don't compete, you're gonna get knocked out. It's all about competing."
For 20 minutes on Saturday, TCU did just that. The Horned Frogs held their own with Kansas (19-6, 10-2) throughout a half that featured two ties and five lead changes and were within two points (36-34) with 3:41 to play in the half. But KU, as it always seems to do, made a run to grab a seven-point halftime lead and then dropped the hammer in the second half, outscoring the Horned Frogs 23-5 in the first eight minutes to take a commanding 70-45 lead.
"If we're boxing, we'd have some problems," Johnson said. "I think there's only one guy that would want to show up and that'd be me and I'd get knocked out in the first round."
After Kyan Anderson kept TCU in the game with 21 first-half points, the Jayhawks changed the way they defended him — mostly through an increase in intensity — and the junior guard scored just four points and took one shot in the second half.
"They made an adjustment," Anderson said. "It was obvious what they were trying to do, and they did a pretty good job at it. Just trying to keep the ball out of my hands and making it tough for me on every play."
The second-half barrage by KU did not catch TCU by surprise. Three weeks ago, in Fort Worth, Texas, the Jayhawks steam-rolled the Horned Frogs, 91-69, and that one was never close.
"They're good," Johnson said. "They're really good. The thing I like about them is they're really competitive. They play for the jersey. They're selfless, real physical and they just wore us down."