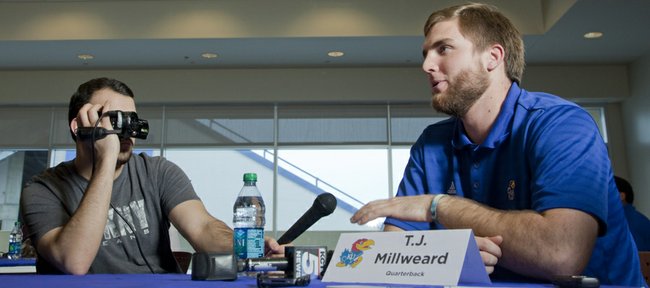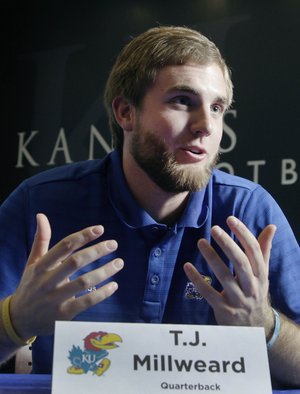 Sophomore transfer T.J. Millweard fired the first shot in the Kansas University quarterback race on Wednesday, and it had surprisingly little to do with football.
Speaking with the media for the first time since transferring from UCLA to KU last August, Millweard was asked about any advantages he might see himself having over senior Jake Heaps and sophomore Montell Cozart, the other legs of what promises to be an exciting three-man race for the Jayhawks' starting job.
Millweard — pronounced Mill-word — deflected all of the attention from the upcoming QB competition by talking about the group as a whole. Each time, he went beyond the three-man list and made sure to include red-shirt freshman Jordan Darling and junior Michael Cummings.
"Yes, we have Jordan tied for first, myself, Jake, Mike and Montell," he said. "We're a great group of guys in that room, and we're working hard every day to get a little bit better."
A few minutes later, after being asked to dive a little deeper into the upcoming showdown, Millweard cracked and identified one area he thinks he has a clear advantage over the rest of KU's quarterbacks.
"I think I got 'em in the beard area," said the 6-foot-3, 210-pound Millweard, who currently sports a mean patch of sandy blonde, Andrew Luck-esque facial hair.
Millweard said he first started experimenting with the beard as a junior in high school after spending his sophomore year at a school that did not allow facial hair. After that, it kind of became his thing and he's been wearing some form of it ever since. The beard has no bearing on how he plays quarterback and certainly won't be a factor in the competition to become KU's starter. But in the early stages of a battle between three humble guys with different strengths and weaknesses, it's the only area of clear separation at this point.
A week ago, after announcing this year's recruiting class, KU coach Charlie Weis said emphatically that Millweard would be in the thick of the competition this spring. From the sound of things, that competition began the day these guys reported to campus following winter break.
"We're all trying to learn from each other, get a little bit better, push each other in the weight room," Millweard said. "In the running drills, who's the quarterback who wins, who's the quarterback that loses and all that. I'd say the competition's good right now."
As for what he views as his best assets at the position, Millweard pointed to his arm and his legs.
"I really like the way I throw the ball," he said. "I'm not saying I'm perfect. I have a lot to work on in that area, of course. But I like the way I throw the ball and I like my mobility."
Asked if that mobility was more elude-and-extend or attack-and-assault, Millweard said the notion that he's a pro style quarterback was off base.
"I have no problem running," he said. "I like it. I really think it gets a team going when a quarterback breaks it. ... Don't get me wrong, I'm never gonna be as fast as Montell. I like to tell him I think I can be, but I can't."
What he believes he can be is efficient.
"Something I take pride in as a quarterback is just getting first downs," he said. "That's your job as an offense. Keep moving the ball, get those first downs, get in the red zone and then cash in and get some points."
The first chance to do that is 205 days away, and right now there's no guarantee that Millweard will be given that opportunity. Doesn't matter. He's focused on the start of spring practice (March 4) and has been for some time.
"I've been counting down for as long as I can (remember)," Millweard said. "UCLA was great, but you never really got the feel of, 'Hey, this is the year.' (Here), it's an open competition and that's all you can really ask for. Unfortunately only one's on the field at a time and we have five great quarterbacks in that room that all want to be on the field, so I think it's going to be a great spring."