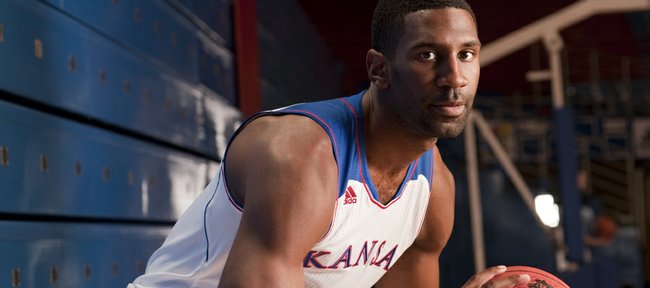 Kansas University basketball coach Bill Self likes the depth in the Jayhawks' frontcourt this season.
"We have five good post guys and the best sixth post guy in the country in Wilt. Wilt doesn't even get a chance to play for us," Self joked Tuesday on his "Hawk Talk" radio show.
"Wilt" is Justin Wesley, KU's senior basketball power forward/actor, whose big-screen debut — the portrayal of Wilt Chamberlain in the movie "Jayhawkers" — will show Friday through Sunday at Lied Center.
"Stop and think about it ... Justin played important minutes in the national championship game and now he'd be our sixth big guy after he's gotten a lot better," Self said of the 6-9, 220-pound Wesley. He logged two minutes in KU's 67-59 loss to Kentucky in the 2012 national title game. For the entire 2011-12 season, he averaged 8.6 minutes in 38 games.
"We do have some depth in there," Self added emphatically.
Wesley, who has played just 14 minutes total his senior season, is behind Perry Ellis, Joel Embiid, Tarik Black, Jamari Traylor and Landen Lucas on the frontcourt depth chart.
"My experience has been great," Lamar transfer Wesley said of his three seasons and one red-shirt year at KU. "Of course I wanted the basketball side of it to go a little bit differently. That's part of life. Some things go your way. Some things don't. You have to make the best of it. It's what I've done.
"I made the decision to transfer here and walk on. I'm still happy with my decision today regardless of how it went basketball-wise. My experience has been a helluva experience. I do not regret anything.
"The love (for KU) hasn't diminished. If anything, it's grown. Some of the best experiences I've had so far in my life have been here," Wesley added.
That includes his work on the movie "Jayhawkers."
It seems KU coach Bill Self recommended him for the part of Chamberlain.
"They came to me and asked who I thought would be the guy who could play the role," Self said "The first thought that was approached to me was Julian Wright (who plays overseas). I started thinking, 'If we get an ex-player to do it, why not get one of our present players whose body type fits much better than Julian's would?' He (Wesley) did the interview process with him (director Kevin Willmott). After that, I think they were pretty sold. From what Kevin and the crew have said, from what I understand, Justin did a nice job with it. I'm excited to see it Friday."
Self will take his team to the movies for the early 7 p.m. showing on Friday. The movie also will be shown at 9 p.m. Friday; 11 a.m., 7 p.m. and 9 p.m. Saturday; and 1, 4 and 7 p.m. Sunday at Lied Center. Tickets are available at Lied Center box office.
"It should be entertaining for our guys," Self said. "I know it was a favorable, positive experience for Justin. He had a good time with it. It was more work than he thought it'd be initially from a time standpoint. He said it was it was a good time. It was fun."
Wesley said he hopes fans enjoy the movie, which will be shown in some film festivals following the unveiling here. No plans for general release have been announced at this time.
"It deals with a little bit of civil rights, basketball, Phog Allen. It bounces back," Wesley said. "I wouldn't say it is primarily based on civil rights or primarily based on basketball. It was a lot of fun. I'm looking forward to seeing it."
For Wesley's take on his work in the movie, click here.
This, that: Self said freshman center Embiid will not practice until Friday at the earliest as he rests his sore back and knee. Self has not decided whether Embiid will play in Saturday's 3 p.m., home game against TCU. Self said MRIs have shown no structural damage for Embiid, who played 18 minutes in Monday's 85-82 overtime loss at Kansas State. Traylor, who sat out the KSU game because of disciplinary reasons, is practicing. Self said Wednesday he hasn't decided if Traylor will play Saturday. "I will never put myself in this situation again," Traylor wrote on Twitter. Self has said Traylor has exhibited "irresponsible behavior."
Draft talk: ESPN's Jeff Goodman revealed his first 2014 NBA mock draft on Wednesday. It includes three Jayhawks: Embiid at No. 1, Andrew Wiggins at 3 and Wayne Selden at 22. ESPN's Chad Ford's Big Board lists Embiid at No. 1 overall, Wiggins at No. 2 and Selden at 27.