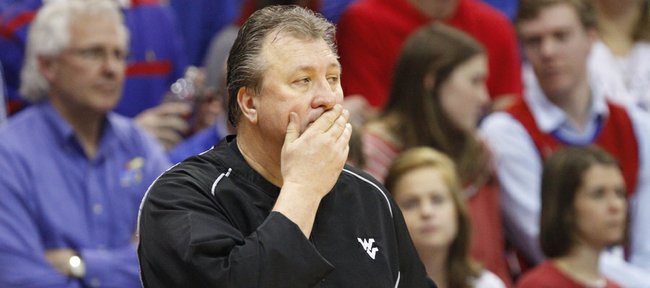 Bob Huggins — whose West Virginia Mountaineers have won three of five road games in Big 12 Conference play this season and 28 league road battles in his seven seasons at his alma mater — won't be dwelling on historic Allen Fieldhouse in his pregame preparation today.
"We've never worried about venues," said the 60-year-old Huggins, who has 737 victories in a 32-year college coaching career. "Venues become venues because they've had great teams.
"I asked Al McGuire one time, 'When did you know you guys had arrived at Marquette?'" Huggins said, entering storyteller mode on the eve of today's 3 p.m. KU-WVA contest in Allen. "Al said, 'When we could walk into any venue without any fear.' I think that is the attitude we had in the time I was at Cincinnati (16 years) and that's certainly the attitude we've had here. We've won more road games than they have won here in years and years and years. I think it's an attitude. Al can say it way better than me: 'Go in without any fear,'" Huggins added.
Of course, future Hall of Famer Huggins is sharp enough to know today's road test figures to be one of the Mountaineers' toughest of the season. He's 0-6 lifetime versus KU.
"Probably the No. 1 pick in the draft, the No 2 pick in the draft and oh, by the way, the other guy on the front line was only a McDonald's All-American. They are really talented," Huggins said, asked what makes the Jayhawks (17-5, 8-1) so strong.
"I think the other part is Bill (Self) can really coach," Huggins said. "You are talking about a guy who is going up in the Hall of Fame, so when you look at it, where are the weaknesses? They've got really good players and lots of them."
Self returned the compliment to Huggins' Mountaineers, who enter 14-9 overall and 6-4 in the league with four wins in the last five games.
"They're probably as explosive as any guard pair with Staten and Harris as anybody in our league," Self said of Juwan Staten, who averages 18.1 points and 6.0 assists, and Eron Harris, right behind at 17.5 ppg. "They're quick, and it seems like to me this is the type of team that 'Huggs' likes coaching."
Guard Terry Henderson nets 12.5 ppg and forward Devin Williams 7.3 boards. As a team, West Virginia averages just 9.7 turnovers a game.
"They have some great scorers, great guards, so we have to be aware of them," KU forward Perry Ellis said. "We have to come out like we did against Baylor, real aggressive."
The Jayhawks bounced back from their only conference loss of the season in rolling Tuesday at Baylor, 69-52.
"I think we got a little lax, where maybe we lost our edge a little bit going down to the Texas game," Self said of an 81-69 road loss a week ago. "We didn't play with that competitive edge. I made a mistake. I probably complimented them a little bit too much when things were going well, and I think they mistook that me being nice to them maybe as me being soft to them, and I don't think that we need to allow it to happen with a bunch of young kids."
Self has reminded his team there's room for a lot of "growth and improvement."
"We'd better get better or it's going to end sad," he said of the season.
Today's game could go either way, Self said: "It'll be a good challenge. They're athletic, we're athletic, there should be a lot of possessions, and it should be a fun game to watch."
Dunk talk: Self was asked to identify the best dunker he's ever coached a day after NBA rookie Ben McLemore was selected to compete in the league's slam dunk contest during All-Star weekend.
"Wiggs could be if he wanted to be. I'm not sure it interests him that much. It actually takes energy to do that," Self said, needling freshman Andrew Wiggins. "I'd say Ben probably. Elijah (Johnson) when he first got here was off the charts. He lost some of his hop after he'd been here for a while, after we rode him hard for four years. J.R. Giddens was a great dunker. J.R. could fly. Ben liked to show off how athletic he was more than anybody we've ever had here. He'll do something funky in the dunk (contest) — he may not win it, but he'll do something funky that I guarantee it will definitely put him in contention."
This, that: KU sophomore walk-on Tyler Self, who suffered a torn ligament in his foot in October, definitely will red-shirt the season, coach Self said Friday. ... Self said freshman Conner Frankamp, who recently suffered a knee injury, is 100 percent. "Conner hasn't had a great year from a production standpoint in games, but he's gotten a lot better. He'll be ready next year when his number is called, and hopefully he'll be ready if his number is called later on this season, because I guarantee it will be ... " Self said ... Rashad Vaughn, a 6-5 senior from Findlay Prep in Nevada, said Friday he will announce his college choice Tuesday, not today as originally planned. He's said to be favoring Iowa State and UNLV over KU, North Carolina and Kentucky.
Nix the NBA talk: Self said players and their families should not be thinking about the NBA right now. He said runners and agents try to get to families about this time of the season.
"People that want him to leave, they're going to be relentless in trying to convince the player's people that it's in the best interest to leave. So that's why it's real important that families and people close to the kids understand that, 'Hey, there's no reason to listen to anybody right now,'" Self said. "The only thing you should listen to is just, 'Hey, I want my son or my guy to finish his college season as good as he possibly can with the least amount of distractions, and then we'll make a decision after we gather information after that.'"