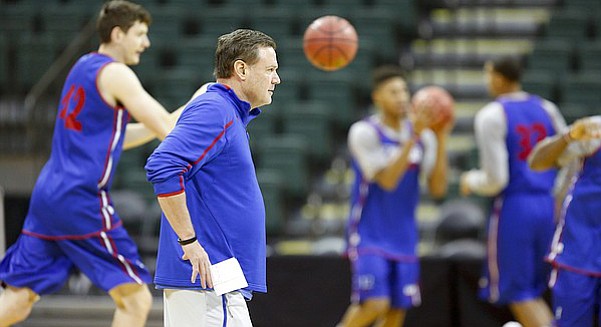 Kansas University's basketball team has been trending upward in winning four straight games since its 72-40 downer against Kentucky on Nov. 18 in Indianapolis.
The No. 11-ranked (5-1) Jayhawks, fresh off three wins and the Orlando Classic championship, still have some shooting stats in need of fixing, however, in large part because of that 11-of-56 performance versus the Wildcats.
Obviously it takes more than a few good outings this early in the season to negate the worst shooting performance in school history.
"I was looking at the Big 12. We are eighth or ninth in the league in field-goal percentage at 42 percent," Self stated correctly on his Hawk Talk radio show. The Jayhawks' 42 percent marksmanship is good for eighth in the 10-team league.
"Of course a lot of that comes from our first couple games. You shoot 24 percent for a game, it means you have to shoot 76 percent the next game to get to 50 percent. We've not done that. That'll keep going up," noted Self, whose Jayhawks hit 47.2 percent of their shots against Rhode Island, 49 percent vs. Tennessee and 37 percent vs. Michigan State in Florida.
"We have not shot the ball well beyond the arc at all, like we're capable of shooting it," Self added.
KU is eighth in the league in three-point percentage at 32.6 percent. The Jayhawks are 10th in treys made (30). However, KU did hit 19 of 50 threes in Orlando (8 of 17 vs. Rhode Island; 8-19 against Tennessee, but 3-14 vs MSU) for 38 percent.
"We've not shot very well from the free-throw line even though we have shot a lot of them like we're capable of shooting. Hopefully that will improve," added Self, whose Jayhawks are sixth in the league in free-throw percentage at 70 percent.
KU hit 62 of 86 free throws in Orlando for 72.1 percent (72 vs. Rhode Island, 76.5 vs. UT and 66.7 vs. Michigan State).
On the positive side, the Jayhawks, who were outboarded by Kentucky by five, are now fourth in the league in rebound margin (plus 7.8) after grabbing 22 more rebounds than Tennessee, nine more than Rhode Island and eight more than the Spartans.
"We rebounded the heck out of the ball (in Florida)," Self said. "Kentucky outrebounded us by five, but it was a bad five. They dominated the glass until late in the game, where we kind of balanced it out. We rebounded well against Santa Barbara (plus 11), very poorly against Rider (plus two). In the tournament ... we did a good job on the glass down there."
KU is sixth in the league at this early juncture in field-goal-percentage defense (.395) and eighth in three-point field-goal-percentage defense (.326). KU was great defensively in the title game against Michigan State, holding the Spartans to 32.2 percent shooting, just 24.2 percent the second half. MSU hit six of 17 threes.
"It was a toughness-type game. The guys responded great. They played like men for the most part," Self said. "Both teams scored fairly easy early. They went on some serious droughts. I thought our defense was pretty good, but we didn't score either. We made it so hard on ourselves by missing free throws (KU was 18 of 27). We made enough plays to win the game because our defense was pretty good and we rebounded the ball well."
Cheers to volleyball: Self, his assistant coaches and players have followed the fortunes of KU's volleyball team all season.
"What a great year, finishing second," Self said of coach Ray Bechard's squad, which shrugged off an 0-3 start to claim a 10-6 record and share of second place in the Big 12.
The Jayhawks (22-8) will play host to first- and second-round NCAA games this weekend, but at the Topeka Expocentre. KU will meet Arkansas-Little Rock in a first-round NCAA game at 6:30 p.m. Friday at the Expocentre (KU plays Florida in men's basketball at 8 p.m. in Allen).
If KU beats UALR, it would meet either Oregon State or Creighton at 6:30 p.m. Saturday for a trip to the Iowa State regional Dec. 12-13 in Ames, Iowa.
"We kind of screwed it up as far as hosting because of our Florida game. The fieldhouse wasn't available," Self said of the basketball team occupying Allen. "I'm sure a ton of people will show up to support the girls over there. They certainly have had a great season, and everybody's excited about the NCAAs."
Cheers to Bowen: Self also attends all KU home football games. He praised the performance of interim football coach Clint Bowen.
"He and his staff did an admirable job, a great job," Self said. "It would be a difficult position for anybody to come into, to take over the program when everything is set, and now in eight weeks (say), 'This is how we do things.' They did a great job in doing that.
"The great thing about Clint is he loves KU. He did a great job. Who knows what the search (for successor to Charlie Weis) will bring? I'm not up to speed on any of that stuff. I know Clint will be very respectful of the search. Whatever happens, happens. He did a really nice job in not the easiest of circumstances to do a job."
Recruiting: KU's coaches as well as ones from Kentucky, UCLA, Georgia and Georgia Tech are expected to watch prospect Jaylen Brown play on Saturday night at the Marshall County Hoopfest in Kentucky, Zagsblog.com reports. Brown, a 6-7 wing from Wheeler High in Marietta, Georgia, who is ranked No. 2 in the Class of 2015 by Rivals.com, has visited KU, Kentucky and UCLA and will visit Michigan and North Carolina. ... KU and Kentucky are expected to also watch No. 14-rated prospect Carlton Bragg on Saturday, Zagsblog indicates. Bragg, 6-9 from Villan Angela St. Joseph High in Cleveland, is considering KU, UCLA, Illinois and Kentucky.
The Gators: Florida is off to a 3-3 start this season entering Friday's game. Billy Donovan's Gators have beaten William and Mary (68-45) and Louisiana Monroe (61-56, OT) and lost to Miami (69-67) in Gainesville. The Gators went 1-2 at the Battle4Atlantis, losing to Georgetown (66-65, OT) and North Carolina (75-64) and beating UAB (56-47).