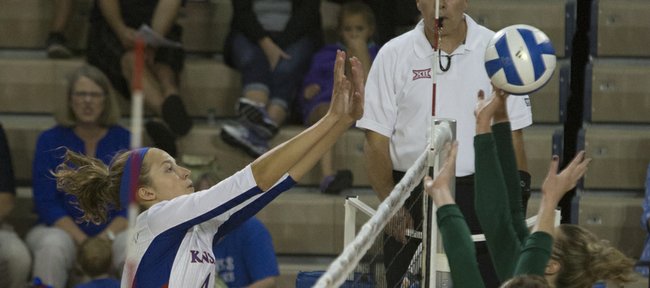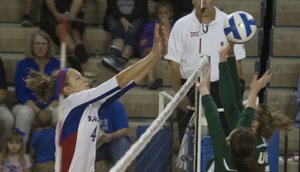 Kansas University's volleyball team, which claimed the 700th victory in program history on Friday afternoon, found No. 701 surprisingly elusive on Friday night.
The No. 22-ranked Jayhawks, who were coming off the team's first NCAA Tournament Sweet 16 appearance, followed a historic 3-0 rout of Utah Valley with a shocking 3-2 setback to Lipscomb University, both contested in Horejsi Center.
The Lady Bisons of the Atlantic Sun Conference, who represent the private Christian school in Nashville, stormed back from a 2-0 deficit to claim their first victory over a ranked team, 17-25, 18-25, 25-14, 26-24, 15-12.
"I think we kind of thought we had the game already (at the two-set intermission)," said KU senior outside hitter Sara McClinton, who had 13 kills versus Lipscomb and nine against Utah Valley. "That's never an attitude you want to take. It's always about, 'OK, we want to finish in three, and we don't want to mess around in the third set.'"
Lipscomb, which has three players from the Kansas City area on the roster, never quit after losing to No. 23-ranked Creighton, three sets to one, Friday morning. Creighton, which meets KU at 2 p.m. today in Horejsi, beat Utah Valley, 3-0.
"We just think there's a lot of things we can work on. We know what we have to do. We've exposed some of our weaknesses, and the good thing is, they are all fixable — some communication errors, some out of system and then just some nerves," said McClinton, a 6-foot-2 outside hitter from Omaha, Nebraska, home of today's foe, Creighton.
"As we play more together as a team, those things will all work themselves out," she added.
KU coach Ray Bechard obviously wanted his team to put Lipscomb away in set No. 3.
"We knew that we were playing a team that was not going to give up. We were talking about the response we needed to start the third set. That's all we spent our time talking about in the break, and we didn't get that," Bechard said of his team, which fell behind, 8-3, in the third.
"We still had the ball on our side at the end of the fourth set, didn't make a play (when leading 24-23)," he added. "When you get to the fifth set, you get balls that are out a foot, balls that might be touched, balls that might not be touched. The volleyball gods take over, so you never want to put yourself in that position. I think the youth (seven freshmen are on roster after losing seven seniors) showed a little tonight and their experience, and that combination certainly was disappointing. As well as we played in the first two sets, we took a step backward in the last three."
KU senior Chelsea Albers had 12 kills versus Lipscomb and eight versus Utah Valley. Freshman Madison Rigdon had six kills in each match. KU freshman Ainise Havili had 40 assists in the loss. Sophomore Tayler Soucie had four kills vs. Lipscomb after tallying eight against Utah Valley.
Next up is today's match against CU, a team KU beat in the Round of 32 of the NCAA Tournament last season.
"Tomorrow is huge because we still have a chance to win the tournament," McClinton said.
Bechard was asked if CU wants to make up for last year's loss to KU.
"I'm sure they do (want revenge). I'm sure they stewed about that all winter and all spring," he said. "The faces are a little bit different for us. For them, they are pretty much the same. We've got to be excited to bounce back from a disappointing loss, and I'm sure they are excited to get a little revenge from last year."
KU, by the way, is now 700-676 all-time in 40 seasons of volleyball.
"I've been here for some of them, so that's fun," Bechard said after the afternoon victory. "But a lot of great coaches and a lot of great players have been a part of that. I think it is something that all of Jayhawk volleyball can feel good about. It's a good way to get the season going."