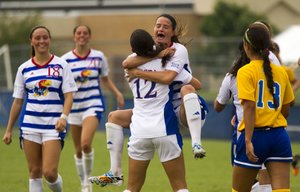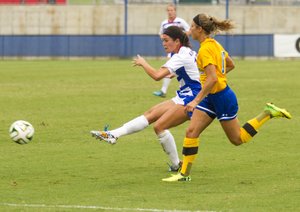 Kansas University scored three goals in the final 30 minutes to claim a 3-0 exhibition victory over South Dakota State on Friday at the Jayhawk Soccer Complex.
Senior Ali Kimura scored the game-winning goal and added an assist.
"I was really encouraged by the way we competed today," KU coach Mark Francis said. "I thought South Dakota State really played us tough and exposed some things we'll need to work on as we move into the regular season. But there were also some things that we did really well today and can build on moving forward."
The match was played with an extra 15 minute period to give both teams added practice before the regular season begins next week.
Tayler Estrada found Kimura on the end of a through-ball into the box, and Kimura put in a right-footed strike past a diving SDSU keeper for the winning goal in the 76th minute.
Three minutes later, Kimura assisted on a goal by Eli Mayr.
Ashley Williams' goal — off a rebound of a shot by Hayley Yearout — in the 94th minute sealed it.
KU took 16 shots, five on goal. The Jackrabbits also had 16 shots, but none on goal.
Kaitlyn Stroud, Maddie Dobyns and Lauren Breshears combined on the shutout in goal.
KU will open the regular season on Friday against Wyoming at the new Rock Chalk Park. Match time is 7 p.m.