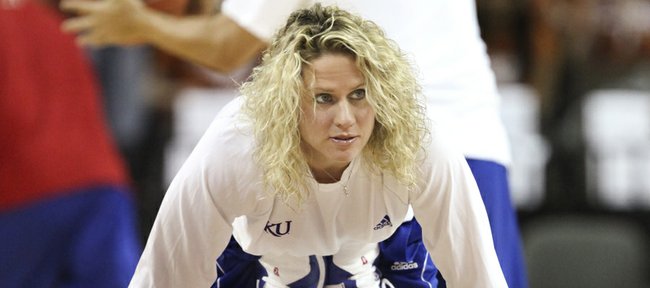 Kansas University strength coach Andrea Hudy's first book, "Power Positions: Championship Prescriptions for Ultimate Sports Performance," will be available Thursday on Amazon.com, with pre-order information currently available at andreahudy.com, Hudy said Friday.
"It could be ground-breaking in terms of how people look at movement," said Hudy, who is beginning her 11th school year at KU after 91⁄2 years at the University of Connecticut.
She recently gave an informative interview to Ron McKeefery and also spoke to the Journal-World on Friday.
Basically, Hudy has narrowed athletic training into "three power positions."
"It's no longer sports-specific. It's position-specific," Hudy explained. "If you look at a basketball player who plays defense and has to be reactive both laterally and vertically, it's almost the same as an inside wide receiver in football or defensive back in football, maybe a running back — somebody who has to accelerate really quickly.
"The second is a rotational athlete — golfer, tennis player, pitcher in baseball or softball.
"The third is a linear top-speed runner, outside wide receiver or safety in football, a sprinter in track. Also as a subset to that ... a linear endurance person, any kind of triathlete, long-distance runner, cyclist.
"We look at what it takes to build that skilled athlete, and once you build that athlete, how you offset all those reps they are doing competitively to stay healthy. There are year-round programs for each one of those athletes in there," Hudy added.
This is Sparta: KU issued a release Friday indicating the NBA's Cleveland Cavaliers have now partnered with Sparta Software, Corp., and are utilizing the same analytic tool Hudy has been using with KU athletes for the past two seasons.
SpartaTrac software and force-plate evaluation monitor player development, track injuries and evaluate new player talent.
To give an example of SpartaTrac, Hudy outlined how incoming freshman guard Sviatoslav Mykhailiuk will use the program upon arriving at KU.
"What is cool with the technology we have, we have been sending him workouts via website and mobile phone," Hudy said of Ukraine native Mykhailiuk.
"He's been doing the things we (KU players) have been doing (all summer). We are trying to create a lateral-reactive athlete (in Mykhailiuk). He has these workouts to do that, but when he gets here, we'll really be able to target his needs based on the force-plate assessment (of SpartaTrac). Then in terms of recovery and regeneration, we have an app now that we look at what he needs to target on for recovery and things like that.
"We don't know what his scan looks like yet, (so) the first day he comes in, we'll warm up, test him and go from there."
The testing will involve six vertical jumps.
"It takes the best three. We'll look at how he produces force through his feet and go from there," Hudy said.
"Force production is an interesting thing. If somebody's rate of force production plummets over a short period of time, we know they are susceptible to some type of injury possibly. If somebody is not strong enough, we can tell that with the scan, too. If you are not strong enough in an area, it might leave you susceptible to pulling a muscle or something like that."