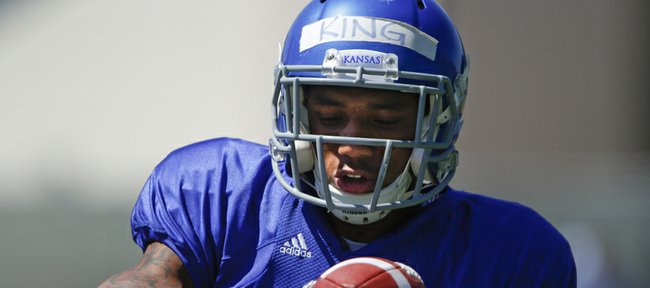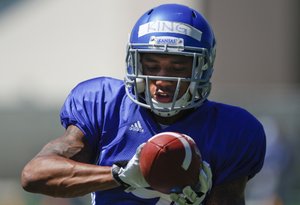 Maybe it's his experience, maturity or veteran status, but former Maryland and current Kansas University wide receiver Nigel King already has figured out a plan for the 2014 season.
"If I learn everything quickly, I can play faster," King said Friday during his first meeting with the local media. "Me learning the offense and getting everything down, I can just play my game and not have to think about it. Because when you think, it definitely slows you down."
There's been nothing slow about the past couple of weeks for King. The junior from Raleigh, N.C., who transferred from Maryland after graduating on Aug. 1, gathered up his belongings in a couple of oversized, black duffle bags he purchased from an Army surplus store, drove to North Carolina with his mother and grandfather for a couple of days at home and hopped a flight bound for Kansas three days later.
Everything moved so quickly that when King arrived in Lawrence he realized he came without a toothbrush. It didn't bother him. Neither did leaving behind the life he built at Maryland, where he played in 24 games for the Terps in 2012-13 and racked up 575 receiving yards and five touchdowns.
"It wasn't hard to leave," he said. "It's not like me transferring. I was kind of ready. This is just a different part of my life. I feel like it's good for me."
King said he came to Kansas largely because of the relationship between KU wide-receivers coach Eric Kiesau and King's high school coach, Otis Yelverton.
"A lot of schools contacted me," King said. "But I already had it narrowed down to a couple of schools I was interested in. (Yelverton) put the schools on the table, told me everything about them and said, 'Make your choice.'"
In order to ensure he made the right call, King buried himself in the KU playbook and has kept his nose in it ever since. He said receivers Nick Harwell and Rodriguez Coleman, along with safety Cassius Sendish, were the first guys to welcome him to the squad, but added that he felt so much like a Jayhawk today that it was hard for him to remember when all of the faces in crimson and blue were new.
"One of the biggest things I like here is how the team took me in," he said. "They took me in from Day One, and it felt like I had already been here for a while."
King meets with student manager Charlie Weis Jr. for 15-20 minutes before meetings most mornings and has no problem raising his hand in front of everybody to ask for a clarification.
"That's definitely me," he said. "Whenever I don't understand something, I'm quick to ask a question. Or if I don't know, I want to know so I can get it out of the way and not have any problems with it or mess up on the field. I don't want to be that guy, even though I'm new."
So far, King's student-of-the-game skills have impressed KU coach Charlie Weis as much as what the transfer's 6-foot-3, 210-pound frame brings to the field.
"These are the type of things that you'd never see," Weis said of King's studious nature. "He takes notes, diligent notes, and asks a whole bunch of questions. A lot of times players don't like asking questions because they think it makes them look dumb. He'll ask any question. That's a sign of a polished guy who gets it. I've been pleased with him. He's playing himself up the depth chart."
As with most transfer situations, King said the toughest part of his adjustment has been learning new terminology. He's grateful for Weis Jr.'s help and believes the six-inch-thick notebook that houses his tricks and translations will help get him up to speed by the season opener on Sept. 6.
"I just needed someone to help me out, and he's helped me a lot," King said of Weis Jr. "I can look at the plays at night, but, of course, I can't quiz myself."
That's why, initially at least, he has tried to make everything as simple as possible. In that notebook he writes the names of his new plays next to the names of similar plays he ran at Maryland.
"I'll remember it that way until it's natural," he said.
In addition, King has made sure to connect with all of the quarterbacks daily, soaked up all the information he can from Weis, Kiesau and his teammates, old or young, and tried to leave practice each day knowing he got better.
He said he already noticed improvements in his game from the day he arrived in Lawrence and believes learning the playbook and getting better are more important, at this point, than almost everything else.
"If the quarterback's throwing you the ball, your job is to catch it," King said.
In other words, run your route, get open, the quarterback will find you, and there's your chemistry.
"Exactly," King said. "That's how I feel about it."