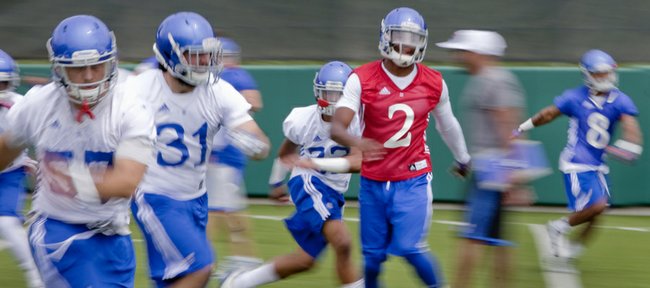 Podcast episode
Assistant chatter: KU assistant coaches meet with media on Day 1 of fall camp. Hear what Matt Tait and Tom Keegan learned from the session.
Friday's first practice of the 2014 Kansas University football season began a new era for third-year KU coach Charlie Weis.
"I'm really looking forward to being a head coach," said Weis, who fired himself as the team's offensive coordinator during the offseason.
New OC John Reagan was brought in last winter to allow Weis to focus on all aspects of the team rather than just searching for a way to kick-start the offense.
Since his arrival, Reagan has been given control of KU's offensive depth chart and playbook, installing a faster and more versatile spread offense.
"It's been exactly what I was told it was gonna be, exactly what I was hoping it was gonna be, and it's been very smooth," Reagan said.
That's not to say Reagan and Weis have not talked offense. Far from it, in fact. After all, Weis is still the man with the final say on all things concerning this team, and, as Reagan put it, "When you've got a guy who's won four Super Bowl rings, you want to learn something."
But Weis has been freed up to keep an eye on the other areas of the team that need attention.
"I'm going to spend some time sitting in the offensive room, I'll spend some time sitting in the defensive room, but really I'm going to spend much more time on special teams," Weis said.
There's a reason for Weis' emphasis on the third phase of the game and it goes beyond field goals and kick returns.
"Special teams are one of the best ways to have your finger on the pulse of the entire team," he said, "because you're using both offensive and defensive guys."
The Jayhawks, who finished 3-9 last season and have not won more than three games since 2009, hit the practice fields with a heavy dose of enthusiasm on Friday. With a senior-heavy group leading the charge, this camp figures to be more productive and efficient than in recent years.
"We're way ahead of where we've been," cornerbacks coach Dave Campo said Friday. "I'm excited, as coach Weis is I'm sure, to see the progress we've made."
Generally speaking, it's the athletes who are evaluated on their progress. But this offseason, the coaching staff progressed a great deal, as well.
"When you're part of a program and part of a team, all those personal egos and all that stuff goes out the window," defensive coordinator Clint Bowen said. "You just do what's best for the kids and for the program and what's best to win, and that's what everyone's on board doing."